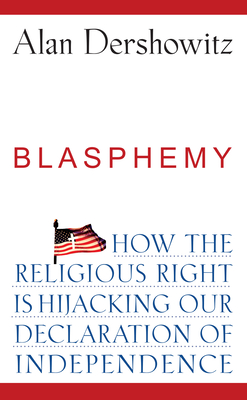 Blasphemy
How the Religious Right Is Hijacking the Declaration of Independence
Hardcover

* Individual store prices may vary.
Other Editions of This Title:
Paperback (6/1/2008)
Description
In Blasphemy: How the Religious Right is Hijacking the Declaration of Independence, author Alan Dershowitz proves that no relation exists between the Declaration of Independence's "Creator and "Nature's God," on the one hand, and the Judeo-Christian God of the Old and New Testaments, on the other hand. Learn about the religious right's goal to Christianize America by using the Declaration of Independence and arguing that this document proves that the United States was founded on Biblical law. Understand everything from the argument to the documentation that Dershowitz uses to disprove this historical distortion.
Wiley, 9780470084557, 208pp.
Publication Date: June 1, 2007
About the Author
ALAN DERSHOWITZ, the Felix Frankfurter Professor of Law at Harvard Law School, is one of the country's foremost appellate lawyers and a distinguished defender of individual liberties. His many books include the #1 New York Times bestseller Chutzpah and the Wiley books The Case for Israel, also a New York Times bestseller; The Case for Peace: How the Arab-Israeli Conflict Can Be Resolved; and What Israel Means to Me. He lives in Cambridge, Massachusetts.