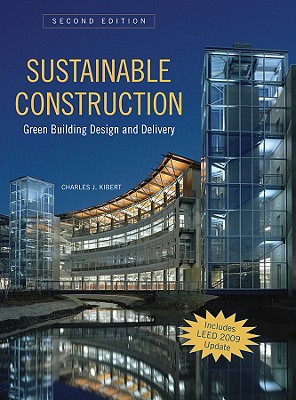 Sustainable Construction (Hardcover)
Green Building Design and Delivery
Wiley, 9780470114216, 432pp.
Publication Date: October 1, 2007
* Individual store prices may vary.
Description
Reflecting the latest developments in the green building movement, and updated to include coverage of LEED 2009,
Sustainable Construction: Green Building Design and Delivery, Second Edition
guides construction and design professionals through the process of developing commercial and institutional high-performance green buildings in today's marketplace.
In this revised edition, Charles Kibert delivers a detailed, and passionate, overview of the entire process of green building, covering the theory, history, state of the industry, and best practices in green building. Kibert uses not only the dominant LEED assessment system, but includes such newer ones as Green Globes and several noteworthy building assessment systems from other countries. Sections introduce the background of the green building movement and walk you through such aspects as the background of high-performance green building design, green-building assessment, the green building process, and ecological design.
Broad enough to cover the needs of faculty and students in architecture, engineering, landscape architecture, interior design, and construction management, yet focused enough to serve as a reference for building owners and buyers of construction services, Sustainable Construction is a comprehensive look at an emerging process that is environmentally sounds while making good economic sense.
Content from this book is available as two online continuing professional education courses at http: //www.wiley.com/WileyCDA/Section/id-320255.html#life_cycle_assessment and http: //www.wiley.com/WileyCDA/Section/id-320255.html#green_building. WileyCPE courses are available on demand, 24 hours a day, and are approved by the American Institute of Architects.
About the Author
Charles J. Kibert, PhD, PE, is Director of the Powell Center for Construction and Environment, and a professor in the M. E. Rinker Sr. School of Building Construction at the University of Florida. He is a board member of the Green Building Initiative, the Florida Green Building Coalition, and the Gulf Coast Chapter of the U.S. Green Building Council. He is the cofounder and chairman of the Cross Creek Initiative, Inc., a nonprofit organization established to accelerate the implementation of sustainability principles in building design, construction, and operation. He teaches and supervises master's and doctoral students who are majoring in the sustainable construction program that he developed at the University of Florida.
or
Not Currently Available for Direct Purchase