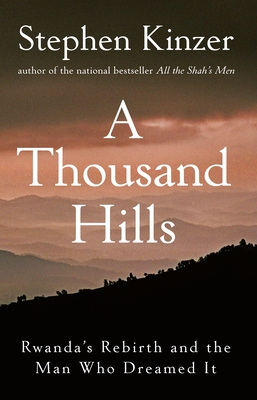 A Thousand Hills: Rwanda's Rebirth and the Man Who Dreamed It (Hardcover)
Rwanda's Rebirth and the Man Who Dreamed It
Wiley (TP), 9780470120156, 380pp.
Publication Date: June 1, 2008
Description
A Thousand Hills: Rwanda's Rebirth and the Man Who Dreamed It is the story of Paul Kagame, a refugee who, after a generation of exile, found his way home. Learn about President Kagame, who strives to make Rwanda the first middle-income country in Africa, in a single generation. In this adventurous tale, learn about Kagame's early fascination with Che Guevara and James Bond, his years as an intelligence agent, his training in Cuba and the United States, the way he built his secret rebel army, his bloody rebellion, and his outsized ambitions for Rwanda.
About the Author
Stephen Kinzer is an award-winning foreign correspondent who has worked in more than fifty countries on five continents. He has been New York Times bureau chief in Istanbul, Berlin, and Managua, Nicaragua. He is the coauthor of "Bitter Fruit: The Story of the American Coup in Guatemala," and author of "Blood of Brothers: Life and War in Nicaragua"; "Crescent and Star: Turkey Between Two Worlds"; "All the Shah's Men: An American Coup and the Roots of Middle East Terror"; and "Overthrow: America's Century of Regime Change from Hawaii to Iraq." His Web site is www.stephenkinzer.com.
Advertisement