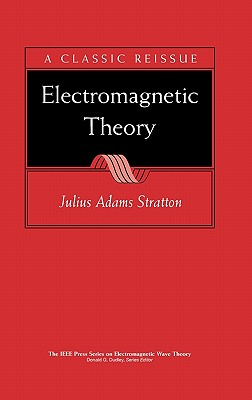 Electromagnetic Theory (IEEE Press Series on Electromagnetic Wave Theory #33) (Hardcover)
John Wiley & Sons, 9780470131534, 615pp.
Publication Date: January 22, 2007
* Individual store prices may vary.
Description
This book is an electromagnetics classic. Originally published in 1941, it has been used by many generations of students, teachers, and researchers ever since. Since it is classic electromagnetics, every chapter continues to be referenced to this day.
This classic reissue contains the entire, original edition first published in 1941. Additionally, two new forewords by Dr. Paul E. Gray (former MIT President and colleague of Dr. Stratton) and another by Dr. Donald G. Dudley, Editor of the IEEE Press Series on E/M Waves on the significance of the book's contribution to the field of Electromagnetics.
About the Author
JULIUS ADAMS STRATTON (1901-1994) had an SB, 1923, and SM, 1926, in electrical engineering, Massachusetts Institute of Technology; an ScD in mathematical physics, 1928, Eidgenossiche Technische Hochshule, Zurich, Switzerland; and was the eleventh president of MIT. Much of his research at MIT focused on the propagation of short electromagnetic waves. During World War II, he worked on the development of LORAN (Long Range Navigation) for planes and ships. He served as a consultant to Secretary of War Henry L. Stimson and chaired committees to improve all-weather flying systems and ground radar, fire control, and radar bombing equipment. He also helped plan the use of radar in the Normandy invasion. He was awarded the Medal of Merit for his services. He became MIT's first chancellor in 1956, acting president in 1957, and president in 1959. At his retirement in 1966, he was elected a life member of the MIT Corporation. A trustee of the Ford Foundation from 1955-1971, he served as its chairman from 1966 to 1971.