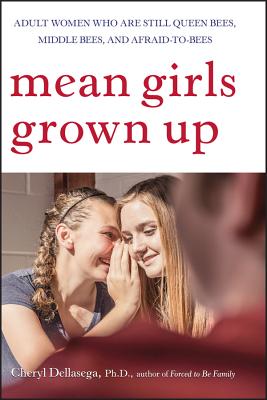 Mean Girls Grown Up (Paperback)
Adult Women Who Are Still Queen Bees, Middle Bees, and Afraid-To-Bees
Wiley, 9780470168752, 246pp.
Publication Date: September 1, 2007
* Individual store prices may vary.
Description
Almost every woman has experienced bullying. Whether her role was that of victim, aggressor, or bystander, the pain of relational aggression (female bullying) lasts long after the incident has passed. In Mean Girls Grown Up, Cheryl Dellasega explores why women are often their own worst enemies, offering practical advice for a variety of situations. Drawing upon extensive research and interviews, she shares real-life stories from women as well as the knowledge of experts who have helped women overcome the negative effects of aggression. Readers will hear how adult women can be just as vicious as their younger counterparts, learn strategies for dealing with adult bullies, how to avoid being involved in relational aggression, and more. Dellasega outlines how women can change their behavior successfully by shifting away from aggression and embracing a spirit of cooperation in interactions with others.
About the Author
CHERYL DELLASEGA, PH.D., is a professor in the College of Medicine and the Department of Humanities at Pennsylvania State University. She is the author of Forced to Be Family, Surviving Ophelia, Girl Wars, and The Starving Family.
Discuss relational aggression (RA). Is RA learned or "hard-wired?" Do women differ from men in the ways they express aggression? What motivations typically drive a woman to exhibit RA behavior? Is it possible to completely eliminate RA from your relationships?
What issues discussed in the book (i.e. the "PTA Clique," "Bully Boss," etc.) were especially relevant in your life?
What are the characteristics of Queen Bees you have known? Why might it be hard for a woman to admit to bullying Queen Bee behav­iors? Ask yourself if you have been a Queen Bee (or are you still?). If so, how did (does) it make you feel to admit to this?
Who is more malicious—an overt Queen Bee or a behind-the-scenes Middle Bee? Who has more power? What advice might you have for women who find themselves in a bystander position but want to tact­fully disengage from the Middle Bee role?
Have you ever been the target of false gossip? If so, describe how it impacted you. How did you respond?
The Afraid-to-Bee is the victim of other women's aggression. If you know an Afraid-to-Bee, what kind of advice can you give her so that her life is not completely derailed by a Queen Bee?
Are women tougher on female coworkers than male? If yes, why? Does an all-female working environment usually encourage or discour­age the aggressor-victim dynamic? What other situations can you think of that spark competition among women? What can you do when your boss is Queen Bee?
The author offers numerous pointers in healing residual RA, such as confronting your aggressor, talking to a therapist, deciding to forgive, choosing compassion for your aggressor, and many more. What heal­ing tools would work best for you and why? Does facing the past or present aggression really help someome to move on and create new, healthier relationships?
Think about some of today's most popular TV shows and movies. Do the media play a role in encouraging or discouraging RA between women? What do popular shows like The Bachelor and the plethora of reality shows—which draw viewers in with dramatic catfights and backstabbing - tell us about the way women are depicted in our culture?