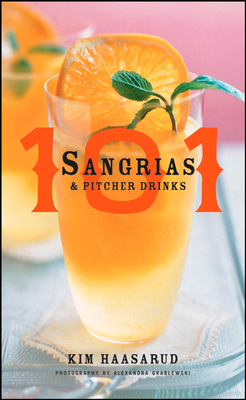 101 Sangrias & Pitcher Drinks (Hardcover)
Houghton Mifflin, 9780470169414, 128pp.
Publication Date: March 1, 2008
Description
"Welcome to the wonderful world of sangrias and punches, names that conjure up good times with great friends. Go get some wine, hit the local produce market, grab a few spirits and ice, and have at it. Enjoy "
--From 101 Sangrias & Pitcher Drinks.
About the Author
KIM HAASARUD is the founder of Liquid Architecture (www.liquid-architecture.com), a beverage consulting firm that creates specialty cocktails for clients such as the Four Seasons, Omni Hotels, and TGI Fridays. She conceives her signature cocktails much as an Alice Waters or a Wolfgang Puck would create a specialty dish, taking inspiration from market-fresh, high-quality ingredients. Kim's liquid cuisine has stirred up a huge following, and her cocktails have appeared in publications ranging from the "Wall Street Journal" to the "Wine Enthusiast" to "Cosmopolitan." She is also the author of "101 Martinis" and "101 Margaritas."ALEXANDRA GRABLEWSKI is a well-known food and beverage photographer whose work has appeared in Gourmet, Martha Stewart Living, Real Simple, Better Homes and Gardens, and Wine Spectator as well as in many cookbooks.
Advertisement