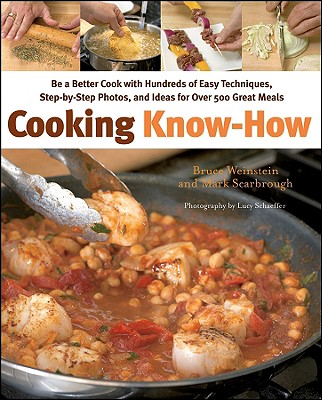 Cooking Know-How: Be a Better Cook with Hundreds of Easy Techniques, Step-by-Step Photos, and Ideas for Over 500 Great Meals (Hardcover)
Be a Better Cook with Hundreds of Easy Techniques, Step-by-Step Photos, and Ideas for Over 500 Great Meals
Wiley, 9780470180808, 416pp.
Publication Date: March 1, 2009
* Individual store prices may vary.
or
Not Currently Available for Direct Purchase
Description
Welcome to a whole new kind of cookbook.


"Knowing how to cook has challenged lots of men. Women, too. What most people learn is a specific recipe: how to make this pasta sauce, or that loaf of bread. What about learning how to cook in general? And not just the 'how' but the 'how come?' That requires a technique book.


"What you'll find in this book is an alphabetical list of sixty-five recipe-driven, technique-centered explications that build out into hundreds of dishes.


"Armed with the knowledge of the simple mechanics of a dish, the five or so steps it takes to make it, you can walk into the market, find what's fresh (or on special), bring it home, and have dinner on the table without any worries, any overly romantic pretensions, or any cookbooks piled on the floor: fresh every time—and your way, too."

—from the Introduction


"The recipes are structured without being fussy and the majority are relatively easy. This is a welcome rarity, imparting a useful, innovative framework as well as the confidence to depart from it."

—Publishers Weekly
About the Author
Bruce Weinstein and Mark Scarbrough are the bestselling authors who penned the Ultimate cookbook series, including "The Ultimate Ice Cream Book." They are contributing editors to Eating Well and columnists for weightwatchers.com ("The Every Day Gourmet"), as well as "Today's Health & Wellness" ("Five After Five"). They file regular features for "Cooking Light" and "Relish" magazine, and have written for Gourmet, the "Washington Post," "Wine Spectator," "Fine Cooking," and numerous other publications. Weinstein and Scarbrough have appeared on the Today show, the "CBS Early Show," and "The View," among other programs. They find their peace in the northern woods of Litchfield County, Connecticut. Visit their interactive Web site for this book at cookingknow-how.com.Lucy Schaeffer is a New York City-based food, travel, and lifestyle photographer. She worked for five years as a photo editor and photographer at "Food & Wine" magazine.
Advertisement