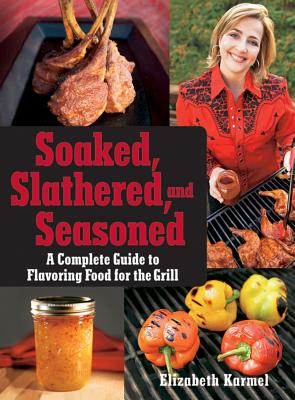 Soaked, Slathered, and Seasoned (Paperback)
A Complete Guideto Flavoring Food for the Grill
Houghton Mifflin Harcourt, 9780470186480, 352pp.
Publication Date: April 10, 2009
* Individual store prices may vary.
Description
"Elizabeth Karmel was born in North Carolina, weaned on pulled pork, and has spice and smoke in her bones."
—
Steven Raichlen
, author of
The Barbecue! Bible and How to Grill
Whether you're grilling hot-and-fast or barbecuing low-and-slow, knowing how to match foods with flavors will make you a bona fide backyard BBQ master. In Soaked, Slathered, and Seasoned, Elizabeth Karmel offers hundreds of savory and sweet flavorings to make the most of all your favorite foods—ribs, burgers, steaks, poultry, seafood, vegetables, and fruit—really, anything you can cook with fire and smoke!
Karmel offers 400 fresh, creative recipes for marinades, brines, barbecue sauces, glazes, mops, salsas, jellies, dipping sauces, and even pestos and tapenades that range from classic (Garlicky Lemon Marinade, Irene's Hot Pepper Jelly) to innovative (Fresh Cherry-Horseradish Relish, Roasted Garlic and Shallot Jam) and from sophisticated (Merlot Wine Steak Sauce, Pumpkin Butter Barbecue Sauce) to just plain fun (Elvis Is in the House Sauce, This Swine Is Mine Beer Mop). With tempting color photos throughout the book and a dazzling array of recipes, Soaked, Slathered, and Seasoned will inspire you for years to come and make anything you grill exciting, fresh, and delicious.
About the Author
North Carolina native Elizabeth Karmel was raised on barbecue—at roadside stands, neighborhood cookouts and county fairs—but it wasn't until she moved away from home that the barbecue love affair began. When it wasn't at her fingertips, she had to teach herself how to barbecue and grill and a pit-mistress was born.
Karmel, a.k.a. Grill Girl is a nationally respected authority on grilling, barbecue and Southern food. She is the Executive Chef of Hill Country Barbecue Market in NYC and Washington, DC, and NYC's Hill Country Chicken. She developed the award-winning concept, menu and flavor profiles from the meats to the sides and desserts for all three restaurants. On July 4, 2012, The New York Times awarded Hill Country Barbecue Market NYC 2 stars and a glowing review that read like a love letter to barbecue and the Hill Country concept.
As a sought after media personality, Karmel writes for, and is frequently featured in an array of national magazines from Bon Appetit to Better Homes & Gardens, and was named one of the top 100 chefs by Saveur magazine. She appears regularly on all three network morning shows and is a guest judge on Chopped and Iron Chef America. She has appeared on a number of Food Network shows and hosted her own special on The Cooking Channel. She writes a bi-monthly column for the Associated Press called The American Table and is the author of three acclaimed cookbooks—Taming the Flame; Soaked, Slathered, and Seasoned; and Pizza on the Grill. She designs an innovative line of outdoor cooking and kitchen tools, and is the founder of the decade-old, gender-breaking GirlsattheGrill.com. Follow her @GrillGirl and like her fan page at http://www.facebook.com/#!/pages/ElizabethKarmel/201250523244938.
Praise For Soaked, Slathered, and Seasoned: A Complete Guideto Flavoring Food for the Grill…
Every spring when the grill books arrive I have the eerie sensation that maybe last year's books were cloned and rejacketed in the hopes that people forgot they had bought them already. Not so with Soaked, Slathered, and Seasoned! Elizabeth Karmel skips the usual macho seminar on flame-taming and gear; instead, she trains her laserlike focus on the real prize: where the flavor comes from.
If you've ever worshipfully bowed your head before some barbecue master's "secret sauce," it's time to make those secrets your own. And, as you'll see, "secret" doesn't necessarily mean "difficult," "elaborate" or "unreproducible" (although it might still mean "macho"). It turns out that getting people to lick their fingers is not really a mystery — more likely it's Karmel's Port and Cherry Reduction Glaze, which, like Green Olive and Lemon Salt, you are likely to conclude you should have learned to make years ago. (Fortunately, it's not too late.) (NPR Weekend Edition, The 10 Best Summer Cookbooks Of 2009, May 31, 2009)
or
Not Currently Available for Direct Purchase