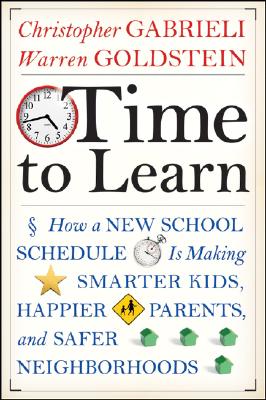 Time to Learn (Hardcover)
How a New School Schedule Is Making Smarter Kids, Happier Parents, and Safer Neighborhoods
Jossey-Bass, 9780470258088, 279pp.
Publication Date: April 1, 2008
* Individual store prices may vary.
Description
Across the country, an educational revolution is taking root. Kids are learning more. Teachers are free to teach beyond the test. And parents aren't worried about what their kids are up to after school. What accounts for this change? The simple answer is, "More time to learn."
The current school day--6 hours and 180 days per year--is obsolete. It fails to provide students with the academic foundations and well-rounded education they need to succeed and thrive in the twenty-first century. The old school day is also out of step with the reality of working families without a stay-at-home parent to manage their children's after-school time. Using an additional one to two hours, the new school day reworks the schedule so that children can master core academic subjects, receive individualized instruction and tutoring, and be exposed to a broad array of topics such as the arts, music, drama, and sports.
About the Author
Christopher Gabrieli, an entrepreneur in the business, nonprofit, and public policy arenas, is cofounder and cochairman of the National Center on Time & Learning, and he is leading the first statewide effort in America to expand learning time for all students at participating schools. Warren Goldstein teaches U.S. history and chairs the Department of History at the University of Hartford. An award-winning historian and essayist, he is author of William Sloane Coffin, Jr: A Holy Impatience, Playing for Keeps: A History of Early Baseball, and (with Elliott Gorn) A Brief History of American Sports.
or
Not Currently Available for Direct Purchase