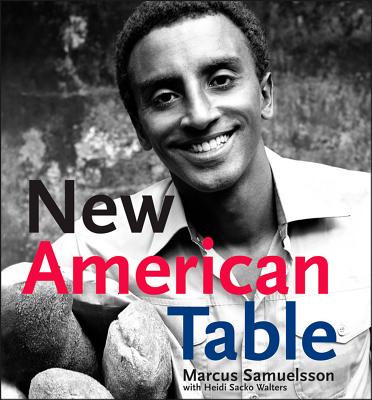 New American Table (Hardcover)
Houghton Mifflin Harcourt, 9780470281888, 368pp.
Publication Date: October 9, 2009
* Individual store prices may vary.
Description
From the winner of Top Chef Masters
An affectionate, thoroughly diverse tribute to the modern American table
"I'll introduce you to friends I've met along the way who have shared their foods, told me their stories and inspired me with their passion. With recipes that range from elaborate entrees to simple snacks, I give an overview of American food as I see it and, hopefully, will provide a primer to navigate through an array of international influences to bring a world of flavor into your own home."
—Marcus Samuelsson
In his bestselling The Soul of a New Cuisine, Marcus Samuelsson returned to the land of his birth to explore the continent's rich diversity of cultures and cuisines through recipes and stories from his travels in Africa. Now, in The New American Table, Samuelsson takes you on a journey of the inspired food of the United States, his beloved adopted country.
Acclaimed for the distinct and diverse cuisine he has created at Aquavit and Riingo, Samuelsson shares more than 300 recipes that embody the uniquely inclusive spirit of American cuisine, from high-end fare to street food; down-home Southern cooking to Southwestern flavors to Asian cuisines, and beyond.
In this new book, he explores the full spectrum of this regional American cooking that he has grown to love, meeting people along the way who have brought wonderful foods to their new home and to the receptive American people who have opened their minds and hearts to new foods and new cultures, including

Green Salsa, to serve over shrimp or as a dip
Breakfast Burritos
Salmon Flatbread
Tempura Crab Salad with Tamarind-Soy Vinaigrette
Soy-Glazed Dumplings with Sweet Chile Sauce
Chicken Sate with Baby Spinach and Garlic Feta Dip
Turkey Meatloaf with Tomato-Spinach Sauce
Beer-Braised Short Ribs
Rustic Chocolate Tart
Red Berry Cobbler
A true celebration of the culinary gifts that define The New American Table, this book is accompanied by stunning food and travel photographs documenting Samuelsson's journeys across America and his discovery of the flavors of a nation. Drawing on his own rich cultural heritage, he has created an exciting tribute to the wide range of cultural influences and culinary traditions that have shaped modern American cuisine. The New American Table presents Samuelsson's interpretation of the food that has evolved from these diverse traditions-a contemporary, original, and uniquely American cuisine.
About the Author
MARCUS SAMUELSSON owns Red Rooster Harlem, Ginny's Supper Club, and Street Bird. He is the author of Marcus Off Duty; the New York Times bestseller Yes, Chef; the James Beard Award-winning Soul of a New Cuisine; and Aquavit. He frequently appears as a judge on Chopped and lives with his wife in Harlem.
Praise For New American Table…
Samuelsson, author (The Soul of a New Cuisine; Aquavit and the New Scandinavian Cuisine) and co-owner/executive chef of New York City's Riingo and Aquavit, shares more than 300 recipes that attempt to define the unique amalgam of American cuisine. Samuelsson, who emigrated to the U.S. from Sweden, pays tribute to the mix of cultures that have shaped the American culinary landscape. His journey across the country showcases regional food along with the wide range of ethnic dishes that are so common today. From condiments, such as citrus mayonnaise and green salsa, and main dishes, such as Ivory salmon with jicama and ramp salad, to desserts, including rhubarb pudding and lemon-chocolate madeleines, Samuelsson highlights the breadth of our culinary diversity. In addition, he includes recipes for breakfast and brunch, breads and sandwiches, salads and snacks, small plates, soups and stews, holiday dishes and drinks. The result is an eclectic, appealing collection that showcases the richness of the American palate. From beef stir-fry with broccolini to lentil soup with pork and lamb meatballs or empanadas with peanut-mango sambal, Samuelsson takes the reader on a culinary journey unlike any other. 300 color photos. (Oct.) (Publishers Weekly, August 3, 2009)
or
Not Currently Available for Direct Purchase