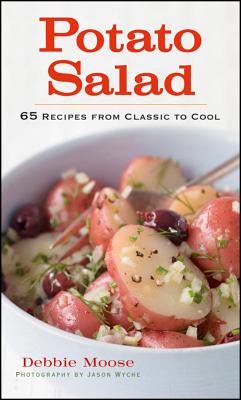 Potato Salad
65 Recipes from Classic to Cool
Hardcover

* Individual store prices may vary.
Description
"Potato salad is not just a starchy buddy to your hamburger. It has a proud place in cultures around the world, from German oil-and-vinegar salads with bacon to dill-accented Scandinavian delights. And, of course, it's the all-American side dish at every Fourth of July picnic. But this great dish deserves to shine year-round. In this book are the flavors of beloved favorites, but with new twists. Other recipes bring in international touches. So, take potato salad to stardom. Go spud wild."
—From Potato Salad
Houghton Mifflin Harcourt, 9780470283486, 128pp.
Publication Date: April 3, 2009
About the Author
Debbie Moose is a freelance writer, cookbook author, and teacher of writing and cooking classes. Her monthly column "Sunday Dinner" has appeared in the Raleigh News & Observer since 1998. Her work has also appeared in Southern Living, and one of her essays was selected for the inaugural edition of Cornbread Nation 1: The Best of Southern Food Writing, compiled by the Southern Foodways Alliance. She is a former food editor of the Raleigh News & Observer.
Moose grew up in Winston-Salem, North Carolina, with parents who tended such a large vegetable garden that they never had to buy canned vegetables or tomato sauce. There, Moose learned about the wonderful flavor of fresh ingredients. She earned her degree in journalism from The University of North Carolina and began working as a reporter, first for the Salisbury Post and then for the News & Observer. She combined her interests in food and writing as the editor of the News & Observer's food section for seven years, during which time it was twice named best section in the U.S. for its circulation category by the Association of Food Journalists.
Moose is now a national-award-winning freelance writer. She has also been recognized for her volunteer work at a Raleigh agency that assists victims of domestic violence, where she is a counselor. She has taught several cooking classes and writing workshops, and volunteers with a literacy organization to teach English as a second language. An ardent college basketball fan since childhood, Moose lives with her husband in Raleigh, North Carolina.
Visit Debbie's blog, Moose Munchies at DebbieMoose.com.
or
Not Currently Available for Direct Purchase