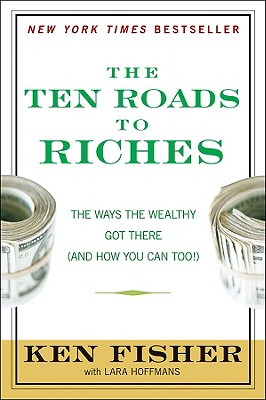 The Ten Roads to Riches: The Ways the Wealthy Got There (and How You Can Too!) (Hardcover)
The Ways the Wealthy Got There (and How You Can Too!)
John Wiley & Sons, 9780470285367, 228pp.
Publication Date: October 15, 2008
* Individual store prices may vary.
or
Not Currently Available for Direct Purchase
Description
Discover how your net worth can be worth more
The Ten Roads to Riches takes an engaging and informative look at some of America's most famous (and infamous) modern-day millionaires (and billionaires) and reveals how they found their fortunes. Surprisingly, the super-wealthy usually get there by taking just one of ten possible roads. And now, so can you Plenty of books tell you how to be frugal and save, but The Ten Roads to Riches tells you how you can, realistically, get super-rich.
Throughout these pages, renowned investment expert and self-made billionaire Ken Fisher highlights amusing anecdotes of individuals who have traveled (or tumbled) down each road, and tells you how to increase your chances of success. Whether it's starting a business, owning real estate, investing wisely, or even marrying very, very well, Fisher will show how some got it right and others got it horribly wrong.
Find out the right questions to ask when starting your own business-the richest road of all
Learn what Mark Cuban, Rupert Murdoch, and rapper Jay-Z have in common, and how you can emulate them
Discover how to avoid high-profile flameouts like the Enron guys and jailed plaintiffs' lawyer Melvyn Weiss
Whether you're just beginning to plan your financial future or well on your way, The Ten Roads to Riches can show you how to gain and, more importantly, maintain the wealth you want.
About the Author
Ken Fisher is best known for his prestigious "Portfolio Strategy" column in Forbes magazine, where his twenty-four-year tenure of high-profile market calls makes him the fourth longest-running columnist in Forbes's ninety-year history. He is also founder, Chairman, and CEO of Fisher Investments, an independent global money management firm with over $45 billion in assets. Fisher is ranked #271 on the 2007 Forbes 400 list of richest Americans and #677 on the 2008 Forbes Global Billionaire list, and is on Investment Advisor magazine's prestigious IA-25 list of the industry's most influential people. He is the award-winning author of numerous scholarly articles and has published four previous major finance books, including the New York Times bestseller The Only Three Questions Count, which is published by Wiley. Fisher has been published, interviewed, and/or written about in most major American, British, and German finance or business periodicals. He has a weekly column in Handelsblatt, Germany's leading finance daily. Lara Hoffmans graduated with a BA from the University of Notre Dame. She is a Senior Content Editor at Fisher Investments, and coauthored with Ken Fisher the bestseller The Only Three Questions That Count.
Advertisement