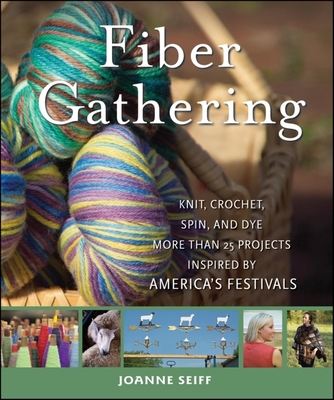 Fiber Gathering (Hardcover)
Knit, Crochet, Spin, and Dye More Than 20 Projects Inspired by America's Festivals
Wiley, 9780470289358, 164pp.
Publication Date: March 1, 2009
* Individual store prices may vary.
Description
Meet the people, sample the flavor, and experience the kinship through 11 unique events and more than 25 inspiring projects
Throughout history, we've gathered together in the market square. We're there to buy and sell, to get good deals on fibers, fabrics, fruits, vegetables, and bread, but we're also there to see friends, gossip, trade recipes, and admire new clothes. We've got an eye on each other's animals, and we're going to keep them from getting into any trouble. It's our chance to hold someone else's baby or to congratulate a new grandmother. It's a chance to connect, to touch, and to bond with others.
These days, it's easy to feel like we live in scary times, and sometimes we're less neighborly than we used to be. Our lives are filled with long distances and technology. We're more likely to make cyberfriends than visit with someone down the street. Our lives are full of work, school, and caretaking, but how many of us still live near our families? Our hometowns? How do we reach out to one another?
--From the Introduction
About the Author
Joanne Seiff is a freelance writer, knitwear designer, educator, and fiber artist. Her writing and designs have appeared in "Interweave Knits," "Vogue Knitting," "Better Homes and Gardens' Knit It!," "Spin-Off," "Belle Armoire," and "Wild Fibers" magazines; in the "KnitPicks Yarn Catalog"; in the "Lion Brand Book," "Just Gifts" and the "KnitLit" books; and online at Knitty.com and Handspinners.com. She has won awards and sold handspun yarn nationwide. In December 2005, her handspun and handknitted art was part of a juried exhibition at the Kiana Malekzadeh Gallery in New York City.