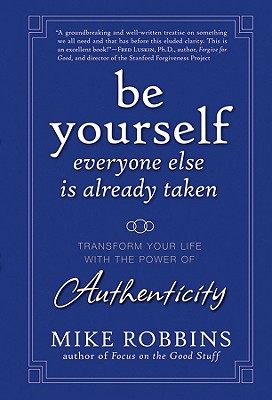 Be Yourself, Everyone Else Is Already Taken (Hardcover)
Transform Your Life with the Power of Authenticity
Jossey-Bass, 9780470395011, 238pp.
Publication Date: April 6, 2009
* Individual store prices may vary.
Description
Praise for Be Yourself, Everyone Else is AlreadyTaken
"Mike's book is a wonderful expression of authenticity inaction--clear, honest, instructive, and a passionate call tobe your true Divine Self."
--Cheryl Richardson, New York Times best-sellingauthor, Take Time for Your Life
"Mike Robbins provides a clear guide for intelligently andcompassionately coming face-to-face with yourself and loving theperson you meet. His five principles of authenticity teach us howto embrace and celebrate all aspects of who we are and what itmeans to be a spiritual being having a human incarnation."
--Michael Bernard Beckwith, author, SpiritualLiberation
"Be Yourself, Everyone Else is Already Taken is anempowering and refreshing book about how to be successful, real, and fulfilled in life. I highly recommend it."
--Gay Hendricks, New York Times best-selling author, Five Wishes
"Mike Robbins has written a powerful, down-to-earth, andinsightful book on one of the most important aspects of happinessand fulfillment in life--authenticity. Be Yourself, Everyone Else Is Already Taken will give you tools andtechniques to enhance your life and relationships in a profoundway."
--Marci Shimoff, New York Times best-selling author, Happy for No Reason
"Be Yourself, Everyone Else Is Already Taken reminds usthat God created each one of us for a unique purpose.?We live in aworld where the lines between fake and real have blurred. Thispowerful book teaches you how to access and express the realnessyou crave in your work, your relationships, and yourself."
--Jon Gordon, author, The Energy Bus
About the Author
Mike Robbins is a sought-after motivational speaker and leader of personal development workshops and coaching programs for individuals, groups, and organizations throughout North America. He is the author of the bestselling book Focus on the Good Stuff and has been featured on ABC News, the Oprah and Friends radio network, Forbes, and many others. For more information about Mike and his work, visit www.mike-robbins.com.