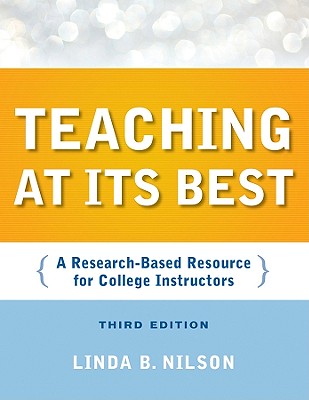 Teaching at Its Best (Paperback)
A Research-Based Resource for College Instructors
Jossey-Bass, 9780470401040, 375pp.
Publication Date: May 17, 2010
* Individual store prices may vary.
Description
Teaching at Its Best
This third edition of the best-selling handbook offers faculty at all levels an essential toolbox of hundreds of practical teaching techniques, formats, classroom activities, and exercises, all of which can be implemented immediately. This thoroughly revised edition includes the newest portrait of the Millennial student; current research from cognitive psychology; a focus on outcomes maps; the latest legal options on copyright issues; and how to best use new technology including wikis, blogs, podcasts, vodcasts, and clickers. Entirely new chapters include subjects such as matching teaching methods with learning outcomes, inquiry-guided learning, and using visuals to teach, and new sections address Felder and Silverman's Index of Learning Styles, SCALE-UP classrooms, multiple true-false test items, and much more.
Praise for the Third Edition of Teaching at Its BestEveryone--veterans as well as novices--will profit from reading Teaching at Its Best, for it provides both theory and practical suggestions for handling all of the problems one encounters in teaching classes varying in size, ability, and motivation."--Wilbert McKeachie, Department of Psychology, University of Michigan, and coauthor, McKeachie's Teaching TipsThis new edition of Dr. Nilson's book, with its completely updated material and several new topics, is an even more powerful collection of ideas and tools than the last. What a great resource, especially for beginning teachers but also for us veterans "--L. Dee Fink, author, Creating Significant Learning ExperiencesThis third edition of Teaching at Its Best is successful at weaving the latest research on teaching and learning into what was already a thorough exploration of each topic. New information on how we learn, how students develop, and innovations in instructional strategies complement the solid foundation established in the first two editions."--Marilla D. Svinicki, Department of Psychology, The University of Texas, Austin, and coauthor, McKeachie's Teaching Tips
About the Author
The Author Linda B. Nilson is the founding director of the Office of Teaching Effectiveness and Innovation at Clemson University. She is the author of The Graphic Syllabus and the Outcomes Map: Communicating Your Course from Jossey-Bass.
or
Not Currently Available for Direct Purchase