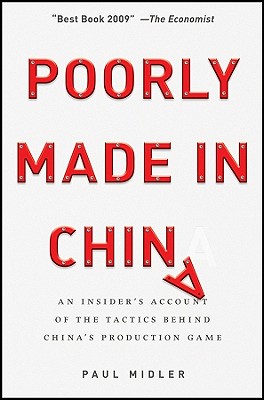 Poorly Made in China: An Insider's Account of the Tactics Behind China's Production Game (Hardcover)
An Insider's Account of the Tactics Behind China's Production Game
Wiley, 9780470405581, 256pp.
Publication Date: April 1, 2009
* Individual store prices may vary.
or
Not Currently Available for Direct Purchase
Description
Praise for Poorly Made in China
"This fast-paced travelogue through the world of Chinese manufacturing is scary, fascinating, and very funny. Midler is not only a knowledgeable guide to the invisible underbelly of the global economy, he is a sympathetic and astute observer of China, its challenges, and its people. A great read."
--Pietra Rivoli, author of The Travels of a T-Shirt in the Global Economy
"Paul Midler takes us for a ride through the fastest-growing economy in the world, revealing what can--and sometimes does--go wrong when U.S. companies shift production to China. Working in the heart of China's export hub, in the country's southern region, he has the advantage of a front-row seat to the no-holds-barred games played between manufacturers and importers. He introduces us to a cast of real-life characters and tells his story with a mix of affection and skepticism for what is taking place in China today. Midler delivers a revealing and often funny tale of life and commerce in a country whose exports touch nearly everyone on the planet."
--Sara Bongiorni, author of A Year Without 'Made in China'
About the Author
Paul Midler graduated from college in 1992 with a concentration in Chinese history and language. After working in China for a number of years, he returned to the United States to complete graduate studies in business with a focus on East Asia. Midler holds an MBA from Wharton and a master's in international studies from the University of Pennsylvania's Lauder Institute. In the course of his career, he has assisted companies of all sizes in a diverse range of industries, working directly with hundreds of manufacturers in China.
Advertisement