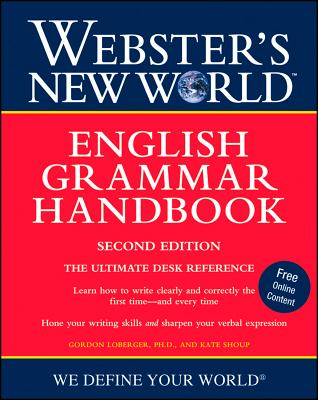 Webster's New World English Grammar Handbook, Second Edition (Paperback)
Webster's New World, 9780470410806, 416pp.
Publication Date: April 3, 2009
* Individual store prices may vary.
Description
The trusted reference—now with on-the-go access
Whether you're in school or out in the work world, communicating clearly and correctly is key to your success. With easy-to-understand explanations of grammar rules and plenty of real-world examples and tips, this authoritative reference is just what you need to speak and write with confidence and ease.
Now more accessible than ever, this edition has been updated to include:
A new chapter on punctuation, including common punctuation mistakes

Expanded coverage of commonly misspelled words and variances in spelling

More intuitive organization, making it easier to navigate

Visual elements that enhance your understanding of specific grammar problems

Free online access to portions of the book for an on-the-go reference to commonly misspelled words; common punctuation errors; variances in spelling among the U.S., the U.K., and Canada; and frequently misused words and expressions
Lucid, comprehensive, and easy-to-use, this is your go-to guide to get ahead.
About the Author
GORDON LOBERGER, Ph.D., author of A Concise Guide to Standard English Usage, has taught English grammar at the university level for over 40 years.
KATE SHOUP is a veteran freelance writer and editor.