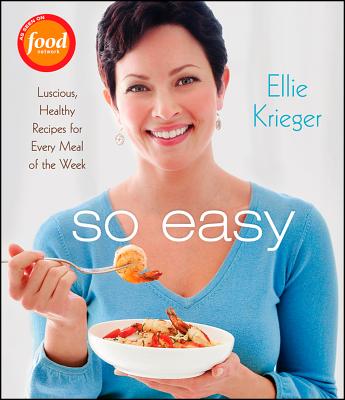 So Easy (Hardcover)
Luscious, Healthy Recipes for Every Meal of the Week
Houghton Mifflin Harcourt, 9780470423547, 272pp.
Publication Date: October 9, 2009
Other Editions of This Title:
Paperback (12/10/2012)
* Individual store prices may vary.
Description
A New York Times' bestselling author's guide to quick and healthy everyday meals
As weekly host of the Food Network's Healthy Appetite, Ellie Krieger is known for creating light and healthy dishes that taste great and are easy enough for the busiest people to prepare. Now, Ellie has put together a collection of meal solutions for those of us who love food and want to eat well but struggle to make it happen given life's hectic pace. With 150 delicious, easy-to-prepare, fortifying recipes, Ellie provides dishes that tackle every possible mealtime situation. Illustrated with 50 full-color photos, there are recipes for:
Grab-and-go breakfasts for hectic days, as well as easy breakfast options for more leisurely mornings
Lunches to go, each road-tested in a cooler pack, along with at-home lunches for when you have the luxury of eating in
A month's worth of different rush-hour dinners-fabulous meals you can whip up in less than thirty minutes-as well as dinners for days when you have a little more time to marinate or roast, but still want it all to be effortless
Decadent desserts, some ready in minutes, others truly worth waiting for-all easily pulled together
As a mom with a full-time job, Ellie knows how busy life is when you're juggling your family's needs. Now, you can stop stressing over whether to eat healthily or to eat fast. The recipes here-from Cheddar Apple Quesadilla, Pork Piccata with Spinach and Garlic Mashed Potatoes, Marinated Flank Steak with Blue Cheese Sauce to Chocolate-Cream Cheese Panini Bites and Fig and Ginger Truffles-are ideal, regardless of the time, or experience, you have in the kitchen.
When so much in life is complicated, isn't it nice to know that eating doesn't have to be? After making and enjoying the meals in this book, you will say along with the title, "That was SO EASY!"
About the Author
New York Times best-selling author and registered dietitian ELLIE KRIEGER was the host of Food Network's Healthy Appetite, which also aired on the Cooking Channel. She regularly contributes to CNN and USA Today, and appears often on national morning shows.