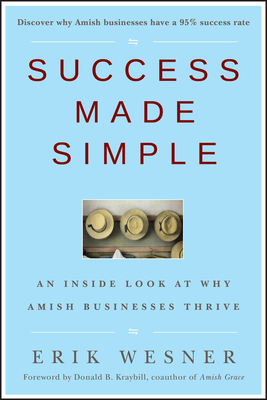 Success Made Simple
An Inside Look at Why Amish Businesses Thrive
Hardcover

* Individual store prices may vary.
Description
The keys to better business from a thriving group of business owners-the Amish
Business can be discouraging. According to US Department of Labor figures, only 44 percent of newly-opened firms will last four years. Amish firms, on the other hand, have registered a 95% survival rate over a five-year period. And in many cases, those businesses do remarkably well-as Donald Kraybill writes: the phrase 'Amish millionaire' is no longer an oxymoron. Success Made Simple is the first practical book of Amish business success principles for the non-Amish reader. The work provides a platform of transferable principles--simple and universal enough to be applied in the non-Amish world, in a wide variety of business and management settings.
Learn how to develop profitable and fulfilling enterprises as Amish explain how to build fruitful relationships with customers and employees, prosper by playing to strengths, and create an effective marketing story
Includes interviews with over 50 Amish business owners outline the role of relationships in business and the importance of the big picture-taking in long-term goals, the welfare of others, and personal integrity
Offers ideas on practical application of Amish business practices to non-Amish businesses, with bullet summaries at the end of each chapter reviewing the most important take-away points
With a focus on relationship-building and the big picture, Success Made Simple offers business owners everywhere the tools for better, smarter, more successful enterprises.
Jossey-Bass, 9780470442371, 256pp.
Publication Date: March 22, 2010
About the Author
ERIK WESNER is an independent expert on the Amish and their business practices, and previously spent a decade as a sales manager and record-breaking salesperson at Nashville's Southwestern Company. He divides his time between Lancaster County, Pennsylvania, where he has strong ties to the Amish community, and Poland, the country of his roots. He also writes the popular blog Amish America at amishamerica.com, covering Amish business, culture, and other topics.