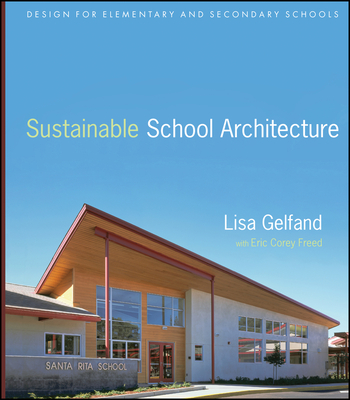 Sustainable School Architecture (Hardcover)
Design for Elementary and Secondary Schools
Wiley, 9780470445433, 323pp.
Publication Date: March 29, 2010
* Individual store prices may vary.
Description
Get the comprehensive guide to the sustainable design ofschools.
The elementary and secondary school buildings and campuses builttoday are the schools of the future. Sustainable SchoolArchitecture is a guide to the planning, architecture, and designof schools that are healthy, stimulating, and will conserve energyand resources. Written with the needs of architects, constructionprofessionals, educators, and school administration in mind, thebook provides a road map for sustainable planning, design, construction, and operations.
By its very nature, a school is often the centerpiece of itscommunity and, therefore, well positioned to take the lead ininfluencing environmental awareness. Building on this point, Sustainable School Architecture shows how eco-friendly practicesfor school construction can create an environment that youngstudents will emulate and carry into the world. Written by expertson sustainable school design, this book:
Focuses on the links between best sustainable practices and thespecific needs of educational institutions.
Has nineteen international case studies of the bestcontemporary sustainable schools located in urban, suburban, andrural communities in temperate, tropical, and extreme climatezones.
Contains valuable information on the California Collaborativefor High Performance Schools (CHPS) and the Leadership in Energyand Environmental Design (LEED(R)) rating system.
Serves as a resource for incremental modernization andoperation strategies as well as comprehensive transformation.
Offers tips on running an integrated, community-based designprocess with support information on the materials and systems ofthe sustainable school.
Includes contributions by experts on approaches to the sites, systems, maintenance, and operation of sustainable schools.
With a practical overview of how sustainability can be achievedin new and existing schools, and how to maintain this momentum inthe years ahead, this important book provides architects withdetailed guidance for designing healthier learning environments tohelp usher in a more promising future.
About the Author
Lisa Gelfand, AIA, LEED AP, one of the preeminent experts ingreen school design and construction, is managing principal ofGelfand Partners Architects (gelfand-partners.com) in SanFrancisco. With more than three decades of experience, she hasserved on the technical committee of the California Collaborativefor High Performance Schools (CHPS). Her firm, which has designedmany award-winning sustainable schools and has been the districtarchitect for several school districts, has pioneered innovativeways to serve public and not-for-profit clients with practical andaffordable sustainable architecture. Eric Corey Freed, LEED AP, the founding principal oforganicARCHITECT (organicarchitect.com) based in San Francisco andPalm Springs, California, is a nationally known sustainabilityexpert who is the author of Green Building and Remodeling forDummies, published by Wiley.
or
Not Currently Available for Direct Purchase