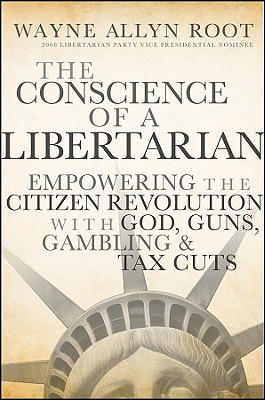 The Conscience of a Libertarian: Empowering the Citizen Revolution with God, Guns, Gambling, and Tax Cuts (Hardcover)
Empowering the Citizen Revolution with God, Guns, Gambling, and Tax Cuts
John Wiley & Sons, 9780470452653, 368pp.
Publication Date: July 1, 2009
* Individual store prices may vary.
or
Not Currently Available for Direct Purchase
Description
Libertarian-conservative solutions to the political, social, economic and tax issues facing the United States from a 2012 Third Party Presidential contender, as well as one of America's leading Tea Party political leaders
In today's uncertain economy, people are growing more and more concerned about their financial future, and looking for common sense, limited government solutions. In The Conscience of a Libertarian: Empowering the Citizen Revolution with God, Guns, Gold & Tax Cuts, 2008 Libertarian Party Vice Presidential nominee Wayne Allyn Root presents a passionate case for smaller government; dramatically reduced spending and taxes; States' Rights; free markets; adherence to the Constitution; an end to the Fed; a ban of bailouts, stimulus, earmarks, pork and corporate welfare; economic and personal freedom; and a return of power to the people, just as the Founding Fathers intended. The book

Explains why Obama's big government solutions are leading to a Great Depression II and a coming Citizen Revolution
Proposes a one year "Income Tax Vacation," a permanent end to capital gains taxes, and detailed spending freezes and cuts across all levels of government
Proposes dramatic education reform centered on school choice, home-schooling, charter schools, teacher accountability, and parental freedom
Proposes unique reforms in the areas of health care, energy and the public sector (government employee unions)
The Conscience of a Libertarian reveals how Americans can take back their country from big government, big unions, big corporations, corrupt politicians, bureaucrats, lawyers and lobbyists.
About the Author
Wayne Allyn Root is one of the most charismatic, fiery, outspoken, and controversial political personalities in America today. He was the 2008 Libertarian Party vice presidential nominee. A college classmate of Barack Obama at Columbia University, he is now the leading contender for the Libertarian presidential nomination in 2012. Root is the son of a butcher, small businessman, and homeschool dad--the quintessential "Citizen Politician" envisioned by America's Founding Fathers. A former anchorman and host on Financial News Network (now known as CNBC), his business and political careers have been profiled by CNBC, the New York Times, the Wall Street Journal, and Time magazine, among others. He is a frequent guest on Fox News, Fox Business, and many national radio shows including Savage Nation, The Jerry Doyle Show, and The Mancow Show. Root's web sites include www.ROOTforAmerica.com and www.ROOTofSuccess.com.
Advertisement