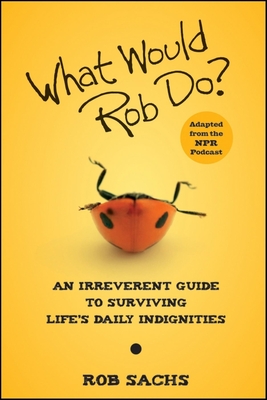 What Would Rob Do? (Paperback)
An Irreverent Guide to Surviving Life's Daily Indignities
Wiley, 9780470457733, 216pp.
Publication Date: April 26, 2010
* Individual store prices may vary.
Description
From rising NPR star Rob Sachs--irreverent takes on handling life's sticky situations based on the popular What Would Rob Do? podcast
What do you do if you get a bad haircut? Do you have trouble remembering people's names? What happens if you clog the toilet at a friend's house? NPR's Rob Sachs has given prudent and entertaining advice for dealing with all sorts of everyday challenges in his successful What Would Rob Do? podcast series, consulting with experts ranging from Fabio to Erik Estrada on dozens of daily dilemmas and common conundrums. Now he brings a wealth of this advice together in a single survival guide to fixing some of life's most vexing minor mishaps and speed bumps.
Entertaining yet practical advice on what to do in tricky life situations
Includes tips from interviews Sachs has conducted with celebrity experts
Written by Rob Sachs, who has been a producer, reporter, and director for NPR shows including Morning Edition, All Things Considered, and Day to Day. Sachs also has a successful NPR podcast series
What Would Rob Do? tackles the full spectrum of life's absurdities and shows how to turn them into an opportunity for adventure, fun, and best of all, laughter.
About the Author
Rob Sachs has spent the last ten years as a producer, reporter, and director for National Public Radio shows, including "Morning Edition," "All Things Considered," and "Tell Me More." He created the NPR podcast "What Would Rob Do"? In 2006 and serves as its host.
Coverage from NPR