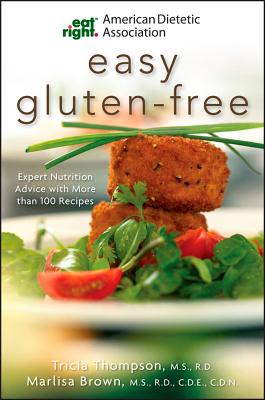 Academy of Nutrition and Dietetics Easy Gluten-Free (Paperback)
Expert Nutrition Advice with More Than 100 Recipes (American Dietetic Association)
Houghton Mifflin Harcourt, 9780470476093, 288pp.
Publication Date: September 10, 2010
* Individual store prices may vary.
Description
From the ADA-the complete guide to a healthy gluten-free diet
Have you or a family member been diagnosed with celiac disease or non-celiac gluten sensitivity? Are you worried that "gluten-free" means boring, bland, and lacking in nutrition? Worry no more. This book will show you how to bring the benefits of delicious, gluten-free whole grains back into your diet and whip up delicious dishes you'll be proud to share with family and friends.
From the foremost authority on nutrition, ADA Easy Gluten-Free arms you with cutting-edge information and easy-to-follow recipes to develop healthy gluten-free meals packed with flavor and variety. Learn about the plethora of gluten-free whole grains: how to select them, cook them, and use them in all your meals and snacks
Browse more than 130 nutritious and delicious gluten-free recipes for any of your dining needs, from starters and main courses to sides, breads, and desserts
Try simple and tempting dishes such as Sweet Potato Quesadillas , Quinoa with Roasted Garlic and Shrimp, Oatmeal Pear Spice Muffins , and Chocolate Sponge Cake with Chocolate Glaze
Learn the basics of healthy gluten-free nutrition, choosing gluten-free ingredients, reading labels, and much more
Start with four easy weeks of gluten-free meal plans to help you jumpstart and maintain a healthy gluten-free lifestyle
Find easy-to-follow information on how to on how to choose and use tasty gluten-free whole grains, from brown rice and oats to millet, teff, and sorghum
So many quick and easy dishes and creative recipes make the book a must for any culinary library.
About the Author
MARLISA BROWN, M.S., R.D., C.D.E., C.D.N., is a registered dietitian, certified diabetes educator, chef, author, and international speaker. She has been featured in over fifty cooking shows for the American Heart Association, writes for many publications, and is the creator of GlutenFreeEasy.com. Marlisa has had a private practice for over sixteen years and has also served as president of the New York State Dietetic Association.
TRICIA THOMPSON, M.S., R.D., is a nutrition consultant, researcher, and author. She writes a weekly column for Diet.com entitled "Living Gluten-Free" and a quarterly column for dietitians about celiac disease in Medical Nutrition Matters. Visit her Web site at www.glutenfreedietitian.com
SHAUNA JAMES AHERN is the author and photographer behind the award-winning blog GlutenFreeGirl.com and the food memoir Gluten-Free Girl. Diagnosed with celiac disease in 2005, she is considered one of the most authoritative gluten-free voices on the Internet.
or
Not Currently Available for Direct Purchase