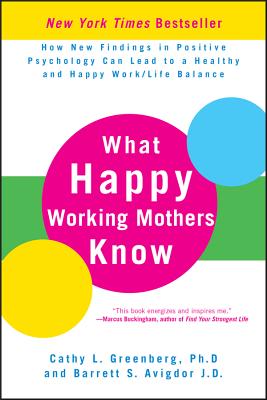 What Happy Working Mothers Know: How New Findings in Positive Psychology Can Lead to a Healthy and Happy Work/Life Balance (Hardcover)
How New Findings in Positive Psychology Can Lead to a Healthy and Happy Work/Life Balance
John Wiley & Sons, 9780470488195, 228pp.
Publication Date: September 1, 2009
* Individual store prices may vary.
or
Not Currently Available for Direct Purchase
Description
A fact-based and proven approach to help working mothers rediscover happiness as they balance their duties at home and work

Science and sociology have made great strides in understanding what makes us happy and how we achieve it. For working mothers who face endless demands on their time and attention, What Happy Working Mothers Know provides scientifically proven and practical ways to find the right balance and replace stress with happiness. Written by a behavioral scientist and global leadership guru, and an international lawyer and career coach, this mom-friendly guide offers practical tactics that truly work.

The demands of juggling work and home lead many women to try to do everything and be everything to everyone. In the effort to be Superwoman, many women lose sight of what makes them happy and they fail to realize how important their happiness is to being a good worker and a good mother. The key to being your best at everything you do is to take care of your happiness the way you take care of your health, through conscious choices every day. You'll learn to overcome obstacles, apply lessons learned at work to your motherhood skills, and learn lessons from your children that you can apply at work.
Includes interactive activities that illustrate important lessons in the book
Shows you how to use positive psychology to shift from a scarcity mentality to an abundance mentality for workplace success
Helps you tap into your own sense of joy every day for your own happiness and the happiness of those around you
Science-based and packed with real case studies of real working moms
Written by authors with impeccable qualifications and real-world experience
Many moms raise great kids and achieve the professional success they desire and deserve, but if they aren't happy, what's the point? This book doesn't show you how to have it all, but how to have all the things that really matter.
About the Author
Cathy L. Greenberg, PhD, is an inter-nationally recognized authority on leadership and applying the new science of happiness. She is a contributor to many articles and bestselling books. An acclaimed speaker and radio show host, she founded h2c--Happy Companies Healthy People--the first organization to specialize in coaching leaders on the art and science of building happy, high-performance companies. Her motto, "Happiness=Profit," has become a mainstay for both her personal life and those she serves around the world. Barrett S. Avigdor, JD, is an international lawyer, executive coach, and Fulbright Scholar. An innovator, trainer, and thought leader in talent strategy and management, she has been a member of the leadership team of Accenture's Legal Group since 1995. She helped establish Accenture's strengths-based approach to their global talent and employee engagement initiative as both a facilitator and an author on the subject. She can be found circling the globe spearheading her passion for excellence in human performance.
Advertisement