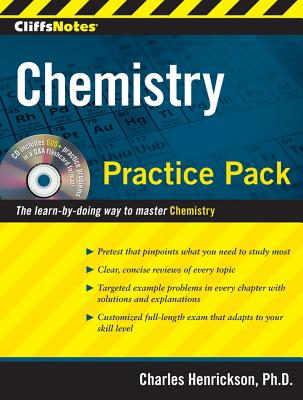 CliffsNotes Chemistry Practice Pack
Paperback

* Individual store prices may vary.
Description
About the Contents:
Pretest
Helps you pinpoint where you need the most help
Topic Area Reviews
Measurement and Units of Measurement

Matter: Elements, Compounds, and Mixtures

Atoms I—The Basics

Formulas and Names of Ionic Compounds, Acids, and Bases

The Mole—Elements and Compounds

Percent Composition and Empirical and Molecular Formulas

Chemical Reactions and Chemical Equations

Calculations Using Balanced Equations

Atoms II—Atomic Structure and Periodic Properties

Chemical Bonding—The Formation of Compounds

Gases and the Gas Laws

The Forces between Molecules—Solids and Liquids

Solutions and Solution Composition

Acids, Bases, and Neutralization
Glossary
Customized Full-Length Exam Covers all subject areas
Pretest that pinpoints what you need to study most

Clear, concise reviews of every topic

Targeted example problems in every chapter with solutions and explanations

Customized full-length exam that adapts to your skill level
Cliffs Notes, 9780470495957, 360pp.
Publication Date: January 22, 2010
About the Author
Charles Henrickson, Ph.D., is a retired professor of Chemistry at Western Kentucky University.
or
Not Currently Available for Direct Purchase