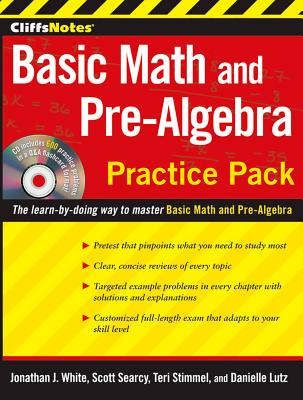 CliffsNotes Basic Math and Pre-Algebra Practice Pack with CD (Paperback)
Cliffs Notes, 9780470533499, 264pp.
Publication Date: February 26, 2010
* Individual store prices may vary.
Description
Basic Math and Pre-Algebra
About the Contents:
Pretest
Helps you pinpoint where you need the most help and directs you to the corresponding sections of the book
Topic Area Reviews
The basics
Whole numbers
Fractions
Decimals
Percents
Integers and rational numbers
Powers, exponents, and roots
Powers of ten and scientific notation
Measurements
Charts and graphs
Probability and statistics
Variables, algebraic expressions, and simple equations
Appendix
Arithmetic and geometric sequences
Predicting the next term of a sequence
Glossary
Defines terminology used in the book
Customized Full-Length Exam
About the Author
DANIELLE LUTZ received her graduate degree from Coe College.
TERI STIMMEL holds a B.A. in Mathematical Science and Secondary Education.
SCOTT SEARCY is a high school teacher in Iowa, and holds a B.A. in Math and General Science.
JONATHAN J. WHITE has a BA in mathematics from Coe College and an MS in mathematics from the University of Iowa. He is Assistant Professor of Mathematics at Coe College in Cedar Rapids, Iowa.