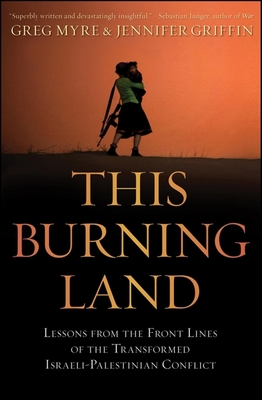 This Burning Land
Lessons from the Front Lines of the Transformed Israeli-Palestinian Conflict
Hardcover

* Individual store prices may vary.
Description
A profoundly different way of looking the Israeli-Palestinian conflict
Reporting from Jerusalem for The New York Times and Fox News respectively, Greg Myre and Jennifer Griffin, witnessed a decades-old conflict transformed into a completely new war. The West has learned a lot about asymmetrical war in the past decade. At the same time, many strategists have missed that the Israeli-Palestinian conflict has become one of them. This book shows the importance of applying these hard-won lessons to the longest running, most closely watched occupation and uprising in the world.
The entire conflict can seem irrational -- and many commentators see it that way. While raising their own family in Jerusalem at the height of the violence, Myre and Griffin look at the lives of individuals caught up in the struggles to reveal how these actions make perfect sense to the participants. Extremism can become a virtue; moderation a vice. Factions develop within factions. Propaganda becomes an important weapon, and perseverance an essential defense. While the Israelis and the Palestinians have failed to achieve their goals after years of fighting, people on both sides are prepared to make continued sacrifices in the belief that they will eventually emerge triumphant.
This book goes straight to the heart of the conflict: into the minds of suicide bombers and inside Israeli tanks. We hear from Palestinian informants who help the Israeli military track down and kill Palestinian militants. Israeli settlers in isolated outposts explain why they are there, and we hear the frustrations of a Palestinian farmer who has had his olive grove cut in half by Israel's security barrier
Shows the important lessons that can be learned by viewing the Israeli-Palestinian conflict as an example of modern, asymmetrical war
Authored by long-time reporters on the Middle East, the book provides a balanced and detailed look at the fighting based on first-hand experience and hundreds of interviews
Explains how the landscape of the conflict changed and why the traditional approach to peacemaking is no longer valid
With a new perspective on what's really going on in Israel and the Palestinian territories, The Familiar War is a book that will inform the debate on the Middle East and the future of the peace process, as well as our understanding of other conflicts around the world.
Wiley, 9780470550908, 320pp.
Publication Date: March 1, 2011
About the Author
GREG MYRE, formerly a correspondent for the New York Times, is a Senior Editor at National Public Radio's Morning Edition.JENNIFER GRIFFIN is the national security correspondent for Fox News. Myre and Griffin have reported from wars across the world and spent nearly eight years covering the Israeli-Palestinian conflict.