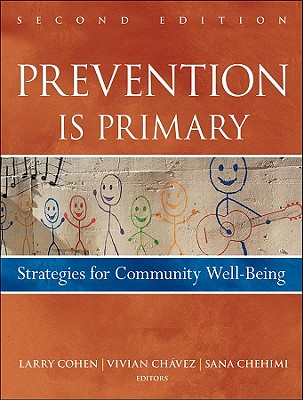 Prevention Is Primary (Paperback)
Strategies for Community Well Being
Jossey-Bass, 9780470550953, 426pp.
Publication Date: September 7, 2010
* Individual store prices may vary.
Description
The new edition of Prevention Is Primary provides models, methods, and approaches for building health and equity incommunities. This comprehensive book includes the theory, concepts, and models needed to harness social justice and practice primaryprevention of unnecessary illness and injury. Ideal for students aswell as practitioners, this thoroughly revised and updated secondedition combines an overview of advances in the field witheffective approaches in the current economic and health careclimate.
With contributions from noted experts, Prevention Is Primaryshows practical applications of intervention science to social andhealth problems and issues facing at-risk and vulnerable groups.The book describes the overarching framework and principles guidingprevention efforts, including a focus on social justice and healthequity, and community resilience. It explores the transition fromprevention theory to implementation and practice and frominterdisciplinary collaboration to evaluation. Highlighting thebook's usefulness as a teaching and learning tool, Prevention IsPrimary has real world examples, learning objectives, and reviewquestions for each chapter.
About the Author
Larry Cohen, MSW, is the founder and executive director of thePrevention Institute, Oakland, California.Vivian Chavez, DrPH, MSW, is an associate professor in thedepartment of health education at San Francisco StateUniversity.Sana Chehimi, MPH, is program manager at the PreventionInstitute.
or
Not Currently Available for Direct Purchase