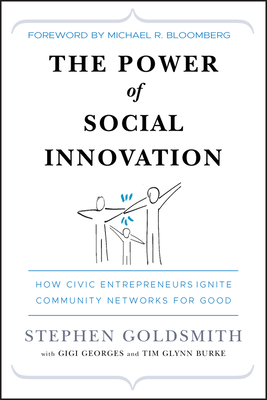 The Power of Social Innovation: How Civic Entrepreneurs Ignite Community Networks for Good (Hardcover)
How Civic Entrepreneurs Ignite Community Networks for Good
Jossey-Bass, 9780470576847, 274pp.
Publication Date: March 1, 2010
* Individual store prices may vary.
or
Not Currently Available for Direct Purchase
Description
Praise for The Power of Social Innovation
"Goldsmith guided us in Florida on our successful faith-based initiatives. His bold approaches continue to inspire public officials and community groups alike with keys to activating citizens and expanding opportunity for all."
--Jeb Bush, former Governor, Florida
"It has been a great pleasure to work with Steve Goldsmith. His work with us at America's Promise and all of his other diligent efforts are so well reflected in this book. The Power of Social Innovation reminds each of us in government, philanthropy, the nonprofit community, and as private citizens that we can and must work together to ensure the full fulfillment of the American Dream and to ensure the success of our most precious resource, our children."
--Alma J. Powell, chair, America's Promise Alliance
"The Power of Social Innovation is a must read for social innovators who want to make a powerful impact. Stephen Goldsmith surveys the field and provides indispensible tools to help civic entrepreneurs scale up their ideas and produce the best possible results."
--Geoffrey Canada, president and CEO, Harlem Children's Zone
"Goldsmith provides a useful toolkit for entrepreneurial public executives and innovative nonprofits and foundations. His research encourages transformative social change by advocating a shift in focus from direct services to citizens to building new, higher performance networks of public, private, and nonprofit organizations."
--Mark R. Warner, United States Senator, Virginia
"When it comes to doing good, Stephen Goldsmith is as disruptive an innovator as we've seen. Read and study The Power of Social Innovation if you don't just want to do good, but want to make the greatest impact possible."
--Clayton M. Christensen, professor, Harvard Business School and author, Disrupting Class
About the Author
Stephen Goldsmith is the Daniel Paul Professor of Government and the Director of the Innovations in American Government Program at Harvard Kennedy School. Goldsmith, himself an entrepreneur, occupies the unique position of having approached these issues as a national leader across sectors. He served two terms as Mayor of Indianapolis, where his transformative efforts to revitalize urban neighborhoods and to transfer real authority to community groups received national acclaim. Goldsmith then led reform as special advisor to President Bush on faith-based and nonprofit initiatives, and has served under both Presidents Bush and Obama as chair of the Corporation for National and Community Service. Goldsmith has written many articles and several books, including Governing by Network, winner of the National Academy of Public Administration's Louis Brownlow Book Award.
Advertisement