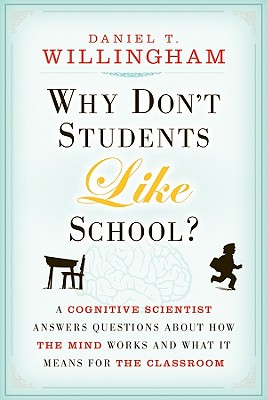 Why Don't Students Like School? (Paperback)
A Cognitive Scientist Answers Questions about How the Mind Works and What It Means for the Classroom
Jossey-Bass, 9780470591963, 228pp.
Publication Date: March 15, 2010
* Individual store prices may vary.
Description
Easy-to-apply, scientifically-based approaches for engagingstudents in the classroom
Cognitive scientist Dan Willingham focuses his acclaimedresearch on the biological and cognitive basis of learning. Hisbook will help teachers improve their practice by explaining howthey and their students think and learn. It reveals-the importanceof story, emotion, memory, context, and routine in buildingknowledge and creating lasting learning experiences.
Nine, easy-to-understand principles with clear applications forthe classroom
Includes surprising findings, such as that intelligence ismalleable, and that you cannot develop "thinking skills" withoutfacts
How an understanding of the brain's workings can help teachershone their teaching skills
"Mr. Willingham's answers apply just as well outside theclassroom. Corporate trainers, marketers and, not least, parents-anyone who cares about how we learn-should find his book valuablereading."
--Wall Street Journal
About the Author
Daniel T. Willingham is professor of psychology at the University of Virginia, where he has taught since 1992. He writes the popular Ask the Cognitive Scientist column for American Educator magazine.