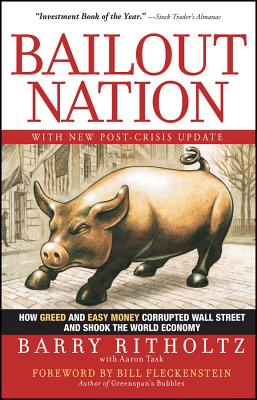 Bailout Nation: How Greed and Easy Money Corrupted Wall Street and Shook the World Economy (Paperback)
How Greed and Easy Money Corrupted Wall Street and Shook the World Economy
John Wiley & Sons, 9780470596326, 332pp.
Publication Date: July 6, 2010
Description
An engaging look at what led to the financial turmoil we now find ourselves in
Bailout Nation offers one of the clearest looks at the financial lenders, regulators, and politicians responsible for the financial crisis of 2008. Written by Barry Ritholtz, one of today's most popular economic bloggers and a well-established industry pundit, this book skillfully explores how the United States evolved from a rugged independent nation to a soft Bailout Nation-where financial firms are allowed to self-regulate in good times, but are bailed out by taxpayers in bad times.
Entertaining and informative, this book clearly shows you how years of trying to control the economy with easy money has finally caught up with the federal government and how its practice of repeatedly rescuing Wall Street has come back to bite them.
The definitive book on the financial crisis of 2008
Names the culprits responsible for this tragedy-from financial regulators to politicians
Shows how each bailout throughout modern history has impacted what happened in the future
Examines why the consumer/taxpayer is left suffering in an economy of bubbles, bailouts, and possible inflation
Ritholtz operates a hugely popular blog, www.ritholtz.com/blog
Scathing, but fair, Bailout Nation is a voice of reason in these uncertain economic times.
About the Author
Barry Ritholtz operates one of today's most popular economic blogs, www.ritholtz.com/blog/, which has received over 50 million page views since launching. He is the CEO and Director of Equity Research at FusionIQ, an online quantitative research firm. He is a frequent guest on CNBC; a regular guest on Fast Money, Kudlow & Company, and Power Lunch; and author of the popular "Apprenticed Investor" column at TheStreet.com.
Advertisement