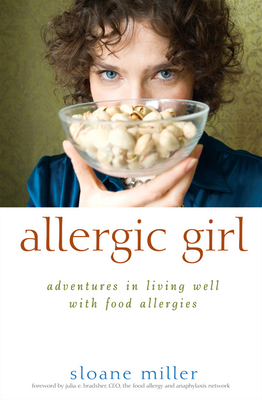 Allergic Girl (Hardcover)
Adventures in Living Well with Food Allergies
Wiley, 9780470630006, 259pp.
Publication Date: February 1, 2011
* Individual store prices may vary.
Description
An indispensable guide for living a full life with food allergies--from an Allergic Girl who lives it
Millions of Americans concerned about adverse reactions to food are seeking the advice of medical professionals and receiving a diagnosis of food allergies. Allergic Girl Sloane Miller, a leading authority on food allergies, has been allergic since childhood. She now lives a full, enjoyable life full of dining out, dating, attending work functions, and traveling. With tested strategies and practical solutions to everyday food allergy concerns, Allergic Girl shows how readers can enjoy their lives too. Informed by personal narratives laced with humor and valuable insights, Allergic Girl is a breakthrough lifestyle guide for food-allergic adults, their families, and loved ones. In Allergic Girl, you will discover:
How to find the best allergist and get a correct diagnosis
How to create positive relationships with family, friends, and food
How to build a safe environment wherever you are
Real-world scenarios scripted from the author's life as well her work with clients and other leaders in the field
Enjoy your food-allergic life to the fullest. Let Allergic Girl show you how.
About the Author
Sloane Miller, M.S.W., L.M.S.W., is ablogger, advocate, consultant, and authorityon food allergies who manages multiplefood allergies herself. Her hugely successfulblog, Please Don't Pass the Nuts (allergicgirl.blogspot.com), was the first blog dedicatedto food-allergic adults. A licensed psycho-therapeutic social worker since 2000, Miller opened a private coaching practice in 2007 for the food-allergic community. She has been featured in the Wall Street Journal, the New York Times, the Huffington Post, New York magazine, and the New York Daily News, and on cnn.com, abcnews.com, and other websites.