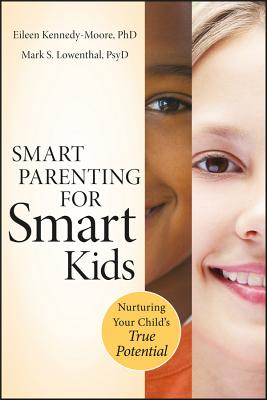 Smart Parenting for Smart Kids
Nurturing Your Child's True Potential
Paperback

* Individual store prices may vary.
Description
WINNER Mom's Choice Gold Award for parenting books
-- Mom's Choice Awards: The best in family-friendly media
My kid is smart, but...

It takes more than school smarts to create a fulfilling life. In fact, many bright children face special challenges:
Some are driven by perfectionism;
Some are afraid of effort, because they're used to instant success;
Some routinely butt heads with authority figures;
Some struggle to get along with their peers;
Some are outwardly successful but just don't feel good about themselves.
This practical and compassionate book explains the reasons behind these struggles and offers parents do-able strategies to help children cope with feelings, embrace learning, and build satisfying relationships. Drawing from research as well as the authors' clinical experience, it focuses on the essential skills children need to make the most of their abilities and become capable, confident, and caring people.
Praise For Smart Parenting for Smart Kids: Nurturing Your Child's True Potential…
This book is a literal Godsend. Parents will find great wisdom in its pages.

- Stephen R. Covey, author of The 7 Habits of Highly Effective People


A fresh parenting book is filled with vignettes and strategies for raising smart kids to become healthy, happy and contributing adults.

- Vicki Abeles, Producer and Co-Director of Race to Nowhere


A smart, deeply perceptive, and important book.

- Wendy Mogel, author of The Blessing of a Skinned Knee


Helps parents see how to encourage their children to develop as whole people with feelings, ideas, and the ability to cope with the occasional disappointment too.

- Roberta Michnick Golinkoff, PhD, author of Einstein Never Used Flash Cards


AWARD WINNER:

Mom's Choice Gold Award for parenting books

Jossey-Bass, 9780470640050, 320pp.
Publication Date: March 1, 2011
About the Author
The Authors Eileen Kennedy-Moore, PhD, is a child and family clinical psychologist in Princeton, New Jersey. She is the author or coauthor of several books on children's feelings and friendships. Mark S. Lowenthal, PsyD, has helped many children, teens, and their families during his twenty-two years as a clinical psychologist. His private practice is in Maplewood, New Jersey.