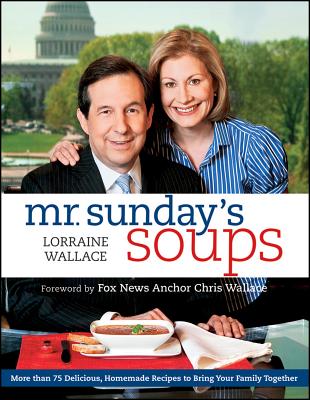 Mr. Sunday's Soups (Paperback)
Houghton Mifflin, 9780470640227, 240pp.
Publication Date: December 3, 2010
Description
Hearty, soulful soups from Chris Wallace's favorite cook
Known to millions as the anchor of Fox News Sunday, Chris Wallace is one of the most popular news show hosts in the country. After a long day on air, Chris would often arrive home hungry and delight at the sight of a big pot of his wife Lorraine's soup on the burner. Lorraine may not be a professional cook, but you wouldn't know it from her soups
In fact, her soups were so good that Chris couldn't help but rave about them on-air. Before long, the show's fans were begging him to share his wife's wonderful recipes. Now, in Mr. Sunday's Soups, Lorraine Wallace shares a wide variety of soups that are sure to please the whole family.
Includes 78 recipes and 40 beautiful full-color photos
With recipes such as Tortellini Meatball, Cuban Black Bean, Chicken Garlic Straciatella, and many more
The perfect cookbook for fans of Fox News Sunday and great soups in general
Features a Foreword by Chris Wallace
Perfect as comfort food at the end of a long day at the office or the studio, these satisfying soups offer simple, wholesome solutions to the dinner doldrums.
About the Author
Lorraine Wallace had two great passions growing up--riding horses and cooking. She became an expert in both. Moving to Middleburg, Virginia in the 1980s, she became a competitor on the amateur showjumping circuit and won awards on her horse, Strait Man.

At the same time, she started her own extensive garden--growing vegetables, herbs, and fl owers. She developed an appreciation for organic ingredients and a deep love for cooking.
Advertisement