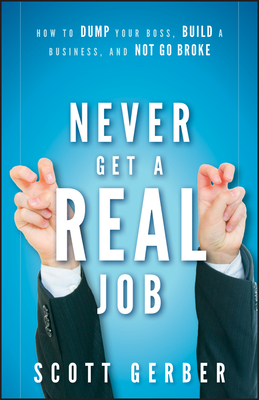 Never Get a "real" Job (Hardcover)
How to Dump Your Boss, Build a Business and Not Go Broke
Wiley, 9780470643860, 250pp.
Publication Date: December 7, 2010
* Individual store prices may vary.
Description
Young serial entrepreneur Scott Gerber is not the product of awealthy family or storied entrepreneurial heritage. Nor is he theoutcome of a traditional business school education or a corporateexecutive turned entrepreneur. Rather, he is a hard-working, self-taught 26-year-old hustler, rainmaker, and bootstrapper whohas survived and thrived despite never having held the proverbial"real" job.

In Never Get a "Real" Job: How to Dump Your Boss, Build aBusiness, and Not Go Broke, Gerber challenges the socialconventions behind the "real" job and empowers young people to takecontrol of their lives and dump their nine-to-fives--or theirquest to attain them.

Drawing upon case studies, experiences, and observations, Scottdissects failures, shares hard-learned lessons, and presentspractical, affordable, and systematic action steps to building, managing, and marketing a successful business on a shoestringbudget.

The proven, no-b.s. methodology presented in Never Get a "Real"Job teaches unemployed and underemployed Gen-Yers, aspiringsmall business owners, students, and recent college graduates howto quit 9-to-5s, become their own bosses, and achieve financialindependence.

About the Author
Scott Gerber is a serial entrepreneur, internationallysyndicated business columnist, and founder of the YoungEntrepreneur Council (YEC), an organization comprised of hundredsof the world's most successful young entrepreneurs that promotesentrepreneurship as a solution to youth unemployment. Scott hasbeen widely recognized as the world's most-syndicated columnist onthe subject of entrepreneurship. His columns appear regularly onFortune, TIME, Inc., CNBC, The Atlantic, Mashable, andThe Next Web. Follow him at @askgerber or visitNeverGetARealJob.com.