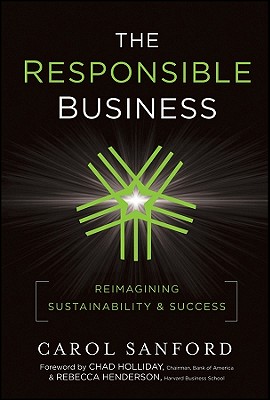 The Responsible Business (Hardcover)
Reimagining Sustainability and Success
Jossey-Bass, 9780470648681, 310pp.
Publication Date: March 29, 2011
* Individual store prices may vary.
Description
"When most people think of corporate responsibility, they arefocusing on a business's effect on and relationship tostakeholders. A Responsible Business sees stakeholders as fullpartners and meaningful instruments for the evolution of healthiercommunities and more successful businesses."
--
from the Introduction
The Responsible Business offers a new and strategicapproach to doing business that holistically integratesresponsibility into all aspects of an organization, allowing forreturns at every level, business and social. This book goes beyondthe often well intentioned but limited attempts at sustainabilityto present a framework that allows organizations to bringresponsibility into everything they do and re-imagine success. Frominnovation, product development, and production processes tobusiness management, strategic planning, and shareholderdevelopment, the author shows how being a Responsible Business is apractical skill that can be applied day-to-day at every level ofthe business.
No longer just the role of a department or the job of CSRprofessionals, successful responsibility and business efforts startat the business level, are then taken to the corporate level, andare finally applied throughout the organization. The ResponsibleBusiness outlines a framework for building a responsibility andconsciousness infrastructure that applies a living systems view tothe business and inspires all of its stakeholders, includingshareholders.
Throughout the book, illustrated by examples from technology tomanufacturing, large and small, public and private, Sanforddemonstrates how to make responsibility integral to all aspects ofa business as an engine for innovation, profitability, andpurpose.
Praise for The Responsible Business
"This is a very significant book. It makes it clear thatbusinesses have a single boss with five interrelated aspects. Thestories are among the crispest, most evocative case histories Ihave seen. The book is for any corporate leader trying to do theimpossible: create a business that recreates the world."
--Art Kleiner, editor-in-chief, strategy + business, and author, The Age of Heretics
"Carol Sanford offers us a proven, practical, and systems-basedapproach that integrates five stakeholder groups into a businesssystem working as an integral whole. Essential reading for leaderswanting a system framework for sustainability and businesssuccess "
--Otto Scharmer, MIT Sloan senior lecturer; author, Theory U: Leading from the Future as it Emerges; and coauthor, Presence
"The Responsible Business challenges many assumptionscorporate leaders, investment advisors, and sustainability expertshave long taken for granted. It provides a road map that can helpinnovative businesses think about how to be trulytransformational."
--Sam Ford, Fast Company expert blogger and director, Peppercom
"The powerful concepts in The Responsible Business havechanged the process of sustainable development and how communitiestruly thrive. Indeed, these proven approaches will be the roadmapto truly achieve the deepest level of living communities."
--Bill Reed, founding member of LEED System andcoauthor, The Integrative Design Guide to Green Building
"Critical for re-imagining the future of business. Rarely a daygoes by that I do not call on this way of thinking and looking atthe world. It is useful for taking on the big business decisionsthat so many of us face every day."
--Chad Holliday, chairman, Bank of America
About the Author
CAROL SANFORD has been the CEO of InterOctave, Inc., a global business resource to Fortune 500 and new economy businesses large and small, for over thirty years. In addition, Carol lectures at universities such as MIT Sloan School of Management, University of Washington Foster School of Business, and University of Michigan Ross School of Business on sustainability, business innovation, and corporate responsibility. Visit www.TheResponsibleBusiness.com for additional content and information.
or
Not Currently Available for Direct Purchase