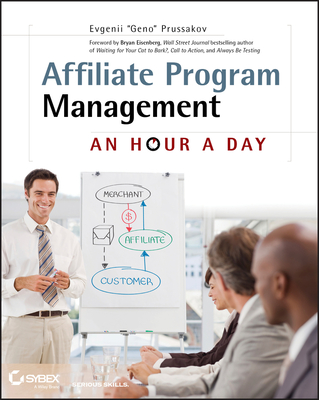 Affiliate Program Management (Paperback)
An Hour a Day
Sybex, 9780470651735, 424pp.
Publication Date: April 12, 2011
* Individual store prices may vary.
Description
Affiliate marketing is hot; here's how to get your program going
Nearly every retailer in the Internet Retailers' Top 500 has an affiliate marketing program. Now free affiliate networks, automation software, and pay-for-performance compensation models are making it easy for small businesses to take advantage of this marketing tool. In the popular An Hour a Day format, this guide features a detailed, real-world, task-based approach to developing, launching, and managing a successful affiliate marketing program. It explores market research, determining payment models and reporting guidelines, recruiting affiliates, crafting appropriate communications, and much more.
Affiliate marketing programs help boost marketing efforts without incurring excessive costs; this Hour a Day guide provides everything merchants, business owners, and those charged with managing an affiliate program need to know
Offers a modern, real-world, step-by-step guide to researching, launching, managing, and optimizing a successful affiliate marketing program
Covers social media; creating policies; working with feeds, coupons, widgets, and video; creating compelling content; handling partners who are not meeting goals; and much more
Affiliate Program Management: An Hour a Day is the do-it-yourself guide to planning and maintaining a successful affiliate program.
About the Author
Award-winning affiliate management expert Evgenii "Geno" Prussakov is the CEO & Founder of AM Navigator - a world's leading OPM agency. As an affiliate program manager and consultant he has contributed to the online marketing success of Forbes, Nokia, Hallmark, Warner Music, Skype, Forex Club, and hundreds of small businesses. Prussakov has authored "A Practical Guide to Affiliate Marketing" (2007) and "Affiliate Program Management: An Hour a Day" (2011) which have trained thousands of marketing professionals. In 2011 for influencing "change within the industry" LinkShare named him one of Performance Marketing's Most Vocal Advocates, while Small Business Trends recognized him in their 2011 Small Business Influencer initiative. In 2012 Geno has launched Affiliate Management Days, the world's first and only affiliate management conference. Besides books, he shares his knowledge through major digital marketing magazines (Website Magazine, Revenue Performance, Search Marketing Standard, Visibility Magazine, etc), blogs, conference presentations (at Affiliate Summit, a4uexpo, eMetrics Marketing Optimization Summit, PubCon, etc), and also maintains his own blog (named Best Affiliate Blog in 2010 & 2011).