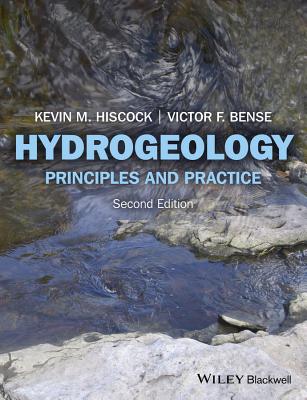 Hydrogeology (Paperback)
Principles and Practice
Wiley-Blackwell, 9780470656631, 519pp.
Publication Date: June 3, 2014
Other Editions of This Title:
Hardcover (6/3/2014)
* Individual store prices may vary.
Description
Hydrogeology: Principles and Practice provides a comprehensive introduction to the study of hydrogeology to enable the reader to appreciate the significance of groundwater in meeting current and future water resource challenges. This new edition has been thoroughly updated to reflect advances in the field since 2004.

The book presents a systematic approach to understanding groundwater. Earlier chapters explain the fundamental physical and chemical principles of hydrogeology, and later chapters feature groundwater investigation techniques in the context of catchment processes, as well as chapters on groundwater quality and contaminant hydrogeology. Unique features of the book are chapters on the applications of environmental isotopes and noble gases in the interpretation of aquifer evolution, and on regional characteristics such as topography, compaction and variable fluid density in the explanation of geological processes affecting past, present and future groundwater flow regimes. The last chapter discusses groundwater resources and environmental management, and examines the role of groundwater in integrated river basin management, including an assessment of possible adaptation responses to the impacts of climate change.

Throughout the text, boxes and a set of colour plates drawn from the authors' teaching and research experience are used to explain special topics and to illustrate international case studies ranging from transboundary aquifers and submarine groundwater discharge to the over-pressuring of groundwater in sedimentary basins. The appendices provide conversion tables and useful reference material, and include review questions and exercises, with answers, to help develop the reader's knowledge and problem-solving skills in hydrogeology.

This accessible textbook is essential reading for undergraduate and graduate students primarily in earth sciences, environmental sciences and physical geography with an interest in hydrogeology or groundwater science. The book will also find use among practitioners in hydrogeology, soil science, civil engineering and planning who are involved in environmental and resource protection issues requiring an understanding of groundwater.

Additional resources can be found at: www.wiley.com/go/hiscock/hydrogeology
About the Author
Kevin Hiscock is a Professor in the School of Environmental Sciences at the University of East Anglia, UK. He has over 30 years' experience in teaching and research in hydrogeology, with interdisciplinary interests in hydrochemistry, environmental isotopes and the impacts of land use and climate change on groundwater resources at regional and global scales. Victor Bense is a Senior Lecturer in the School of Environmental Sciences at the University of East Anglia, UK. He has over 15 years' experience in teaching and research in hydrogeology, with specialist interests in the impact of shallow fault zones in unconsolidated sediments on groundwater flow and the hydrogeology of arctic regions under changing climate.