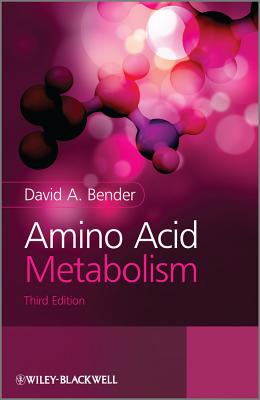 Amino Acid Metabolism
Hardcover

* Individual store prices may vary.
Description
Amino Acid Metabolism, 3rd Edition covers all aspects of the biochemistry and nutritional biochemistry of the amino acids. Starting with an overview of nitrogen fixation and the incorporation of inorganic nitrogen into amino acids, the book then details other major nitrogenous compounds in micro-organisms, plants and animals. Contents include a discussion of the catabolism of amino acids and other nitrogenous compounds in animals, and the microbiological reactions involved in release of nitrogen gas back into the atmosphere. Mammalian (mainly human) protein and amino acid requirements are considered in detail, and the methods that are used to determine them.
Chapters consider individual amino acids, grouped according to their metabolic origin, and discussing their biosynthesis (in plants and micro-organisms for those that are dietary essentials for human beings), major metabolic roles (mainly in human metabolism) and catabolism (again mainly in human metabolism). There is also discussion of regulatory mechanisms for all these metabolic pathways, and of metabolic and genetic diseases affecting the (human) metabolism of amino acids.
Throughout the book the emphasis is on the nutritional importance of amino acids, integration and control of metabolism and metabolic and other disturbances of relevance to human biochemistry and health.
Completely revised edition of this comprehensive text covering all the latest findings in amino acid metabolism research
Written by an authority in the field
Covers new advances in structural biology
Clear illustrations of all structures and metabolic pathways
Full list of recommended further reading for each chapter and bibliography of papers cited in the text
Wiley-Blackwell, 9780470661512, 456pp.
Publication Date: September 4, 2012
About the Author
David A. Bender, Senior Lecturer, Department of Biochemistry and Molecular Biology, University College London, London, UK; Assistant Faculty Tutor (Life Sciences, Medical) and Sub-Dean (Teaching), Royal Free and University College Medical School.
or
Not Currently Available for Direct Purchase