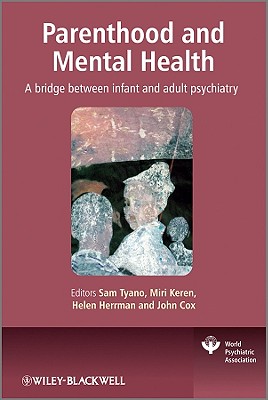 Parenthood and Mental Health
A Bridge Between Infant and Adult Psychiatry (World Psychiatric Association)
Hardcover

* Individual store prices may vary.
Description
Across all cultures parenting is the foundation of family life. It is the domain where adult mental health meets infant development. Beginning in pregnancy, parenting involves many conscious and unconscious processes which have recently been shown to affect a child's development significantly. This book focuses on pregnancy and the first year of life, providing a thorough account of the points of encounter between adult and infant psychiatry. In a fresh and comprehensive way, it summarises knowledge about early parenting, including a critical analysis of parenting, what it means to be a good enough parent, and its relationship to infant, parent and family outcomes. In addition to the psychiatric dimension, the book emphasises the biological aspects of parenting, parental psychopathology and normal and abnormal infant development.
Praise for Parenting and Mental Health
"Tyano, Keren, Herrman and Cox have edited a thoughtfully prepared guide on normal and abnormal parenting. They have, with enormous skill and wisdom, helped to unite the important aspects of pregnancy, infant and childhood development and parenting for adult and child and adolescent psychiatrists. World-class internationally recognized clinicians and researchers help make this book useful throughout the world. This is a masterful, culturally sensitive and important book which provides a long overdue and much needed guide on relationships among children, parents and families."
--Michelle Riba, M.D., M.S., Professor and Associate Chair for Integrated Medical and Psychiatric Services, Department of Psychiatry, University of Michigan, USA
"During recent decades, progress in the field of infant mental health has been revolutionary; at the same time, there has been rapid development in women's mental health. By bringing these two together, this pioneering book leads its readers to the vital new focal point around perinatal mental health. The book integrates the origins of developmental psychiatry in attachment and systemic contexts and shows concretely how relationship experiences and biology interact when new life begins.
After describing the fascinating world of early parenting, the book focuses on problems, difficulties and disorders during this phase of life and above all on how to support, intervene and treat disorders in parenting. When infants, mothers and fathers are understood in a holistic way, professionals in many fields will be able to promote the transmission of meaningful life through parenthood and parenting."
--Tuula Tamminen, Professor of Child Psychiatry, University of Tampere, Finland; Past-President of World Association for Infant Mental Health, President of European Society for Child and Adolescent Psychiatry
Cover design by Reouth Keren
Wiley, 9780470747223, 457pp.
Publication Date: May 24, 2010