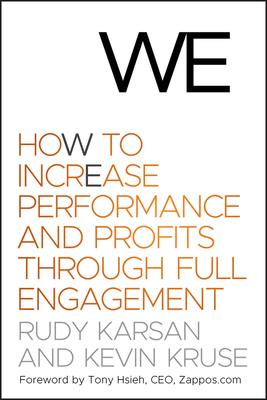 We (Hardcover)
How to Increase Performance and Profits Through Full Engagement
Wiley, 9780470767436, 236pp.
Publication Date: January 25, 2011
* Individual store prices may vary.
Description
Achieve a fully engaged workforce
What if every single employee-every single one-worked in theirdream job, utilized their best talents, worked with aninspirational leader and was fully engaged in their role?
For companies, this scenario leads to breakthroughs inproductivity, customer service, profitability, and shareholdervalue. For individuals, it means better health, strongerrelationships with family and friends, and greater happiness.We sketches the landscape of today's changing jobenvironment and gives managers and individual employees alike aroad map to full engagement.
Anchored with specific metrics, based on studies of 2 millionpeople, includes engagement, retention, customer loyalty, andprofitability
Scientific research and academic insights are translated intoactionable steps
Authors have extensive experience in cutting-edge humanresources solutions
Achieve breakthrough results for yourself and your organizationwith the power of full engagement from We.
About the Author
Rudy Karsan is cofounder, Chairman, and CEO of Kenexa, aglobal provider of business solutions for human resources. Kenexastudies human behavior and team dynamics in the workplace, andusing software solutions, content, and services helps organizationsimprove business outcomes through human resources. With offices intwenty countries and more than 2,000 employees, Kenexa's productsand services have touched the lives of more than 150 million peopleglobally. Under Rudy's leadership, Kenexa has received multipleawards of recognition including Forbes Fastest Growing TechnologyCompanies, Deloitte Technology Fast 500, and Software Magazine'sAnnual Software 500. Rudy attributes his personal success to theunconditional support of his family, which he considers hisgreatest achievement. For more information, visit www.kenexa.com. Kevin Kruse is a serial entrepreneur, CEO of KruResearch, and cofounder of the e-Patient Connections conference. Helectures to organizations around the world on business excellenceand the new world of work. He lives with his family in BucksCounty, Pennsylvania. For more information, visitwww.kevinkruse.com.
or
Not Currently Available for Direct Purchase