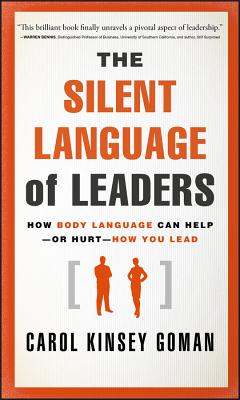 The Silent Language of Leaders (Hardcover)
How Body Language Can Help - Or Hurt - How You Lead
Jossey-Bass, 9780470876367, 278pp.
Publication Date: April 19, 2011
* Individual store prices may vary.
Description
A guide for using body language to lead more effectively
Aspiring and seasoned leaders have been trained to manage theirleadership communication in many important ways. And yet, all theirefforts to communicate effectively can be derailed by even thesmallest nonverbal gestures such as the way they sit in a businessmeeting, or stand at the podium at a speaking engagement. In TheSilent Language of Leaders, Goman explains that personal space, physical gestures, posture, facial expressions, and eye contactcommunicate louder than words and, thus, can be used strategicallyto help leaders manage, motivate, lead global teams, andcommunicate clearly in the digital age.
Draws on compelling psychological and neuroscience research toshow leaders how to adjust their body language for maximumeffect.
Stands out as the only book to address specifically how leaderscan use body language to increase their effectiveness
Goman, a respected management coach, is widely considered asthe expert in body language issues in the workplace
The Silent Language of Leaders will show readers how totake advantage of the most underused skills in the leadershiptoolkit--nonverbal skills--to improve their credibilityand stay ahead of the curve.
About the Author
Carol Kinsey Goman, Ph.D., founder of Kinsey Consulting Services, is an executive coach, management consultant, and keynote speaker for corporations, associations, and government agencies. She is a faculty member for the Institute of Management Studies and has served as adjunct faculty at John F. Kennedy University in the International MBA program and at the University of California in the Executive Education Department. She is the author of The Nonverbal Advantage: Secrets and Science of Body Language at Work. For more information visit: www.silentlanguageofleaders.com
or
Not Currently Available for Direct Purchase