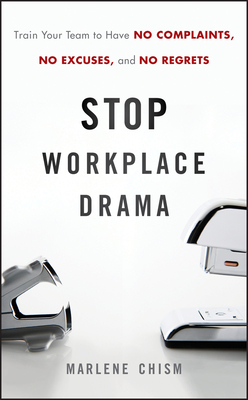 Stop Workplace Drama (Hardcover)
Train Your Team to Have No Excuses, No Complaints, and No Regrets
Wiley, 9780470885734, 229pp.
Publication Date: January 25, 2011
* Individual store prices may vary.
Description
Overcome the interpersonal challenges holding your business back
Is your workplace riddled with gossip, power struggles, andconfusion? Do you seek clarity in your management and cohesivenessin your team? Do you have a personal obstacle affecting yourprofessional success?
If so, there is good news-help is on the way. Stop WorkplaceDrama offers down-to-earth, practical methods to help businessowners, entrepreneurs, and private practice professionals maximizesuccess, increase productivity, and improve teamwork and personalperformance.
Identify "drama" barriers and help your employees break free toexperience higher personal effectiveness and increasedproductivity
Each of the eight points is full of universal and practicalprinciples any business leader, sales director or entrepreneur canput to use immediately
Author Marlene Chism has shared her signature process withorganizations such as McDonalds and NASA
When you're in the thick of business competition, you and your teamneed to function freely without internal conflicts, confusions, orrivalries.
Stop Workplace Drama
ensures that your employeeswill be able to give their best to create a healthy, profitableworkplace.
About the Author
MARLENE CHISM is a consultant, trainer, and professional speaker. She is the founder of the Stop Your Drama methodology--an eight-part process for helping managers and small business owners identify the barriers that are holding back their teams. Marlene is also the creator of Attitude Builders, a monthly teleseminar program developed for busy managers who want easy staff development with no prep, no plan, and no problem. Each month managers learn from experts, authors, and transformational leaders to help increase productivity and personal effectiveness. Working with high-level professionals who want to increase personal performance, Marlene has shared her processes and programs with companies like NASA and McDonald's. For speaking information, visit www.MarleneChism.com, and for free resources, visit www.StopWorkplaceDrama.com.