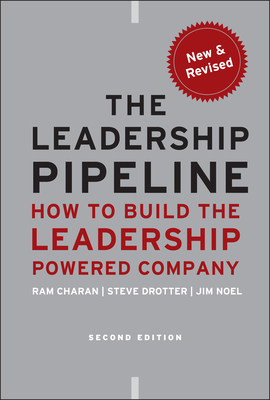 The Leadership Pipeline (Hardcover)
How to Build the Leadership Powered Company (Jossey-Bass US Non-Franchise Leadership #391)
Jossey-Bass, 9780470894569, 325pp.
Publication Date: January 11, 2011
* Individual store prices may vary.
Description
An updated and revised version of the bestselling
TheLeadership Pipeline -
the critical resource for howcompanies can grow leaders from the inside.
In business, leadership at every level is a requisitefor company survival. Yet the leadership pipeline -theinternal strategy to grow leaders - in many companies isdry or nonexistent. Drawing on their experiences at many Fortune500 companies, the authors show how organizations can developleadership at every level by identifying future leaders, assessingtheir corporate confidence, planning their development, andmeasuring their results.
New to this edition is 65 pages of new material to updatethe model, share new stories and add new advice based on the tenmore years of experience. The authors have also added a "FrequentlyAsked Questions" section to the end of each chapter.
About the Author
Ram Charan is an advisor to many of the world's top CEOs andcorporate directors. He is author or coauthor of sixteen booksincluding the New York Times bestseller Execution. He has alsotaught at Wharton, the Kellogg School of Management, and GE'sLeadership Center. He has degrees from Harvard Business School.Stephen Drotter is CEO of Drotter Human Resources, a globalnetwork that specializes in CEO succession; executive assessment, selection, and development; and corporate-level organizationdesign. He was one of the original designers of GE's successionplanning process and ran Human Resources at INA Corporation andChase Manhattan. He has a degree in economics from AmherstCollege.Jim Noel is a retired consultant and leadership coach whoassisted companies in the selection, assessment, and development ofkey leadership teams. He is a former manager of Executive Educationand Leadership Effectiveness at GE.