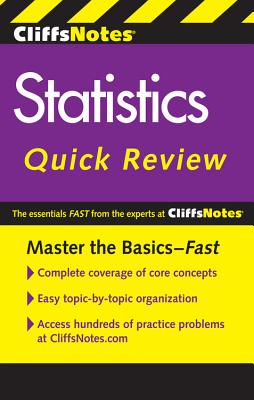 CliffsNotes Statistics Quick Review, 2nd Edition (Paperback)
Cliffs Notes, 9780470902608, 176pp.
Publication Date: May 13, 2011
* Individual store prices may vary.
Description
Inside the Book:
Graphic displays

Numerical measures

Probability

Sampling

Principles of testing

Univariate inferential tests

Bivariate relationships

Review questions

Resource center

Glossary

Common mistakes

Tables
Why CliffsNotes?
Go with the name you know and trust

Get the information you need-fast!
CliffsNotes Quick Review guides give you a clear, concise, easy-to-use review of the basics. Introducing each topic, defining key terms, and carefully walking you through sample problems, this guide helps you grasp and understand the important concepts needed to succeed.
Access 500 additional practice questions at www.cliffsnotes.com/go/quiz/statistics
Master the Basics–Fast
Complete coverage of core concepts

Easy topic-by-topic organization

Access hundreds of practice problems at www.cliffsnotes.com/go/quiz/statistics
About the Author
Scott Adams is earning his PhD in physics at Vanderbilt University. His main interest is in molecular biophysics, especially electrophysiology.


PETER Z. ORTON is Program Director of Global Curriculum Technology for IBM, designing leadership development Web sites, videos, and online simulators for IBMers globally.