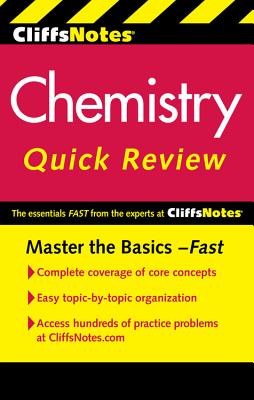 CliffsNotes Chemistry Quick Review, 2nd Edition
Paperback

* Individual store prices may vary.
Description
Inside the Book:
Elements

Atoms

Atomic Structure

Electron Configurations

Chemical Bonding

Organic Compounds

States of Matter

Gases

Solutions

Acids and Bases

Oxidation-Reduction Reactions

Electrochemistry

Equilibrium

Thermodynamics

Review Questions

Resource Center

Glossary
Why CliffsNotes?
Go with the name you know and trust

Get the information you need-fast!
CliffsNotes Quick Review guides give you a clear, concise, easy-to-use review of the basics. Introducing each topic, defining key terms, and carefully walking you through sample problems, this guide helps you grasp and understand the important concepts needed to succeed.
Access 500 additional practice questions at www.cliffsnotes.com/go/quiz/chemistry
Master the Basics –Fast
Complete coverage of core concepts

Easy topic-by-topic organization

Access hundreds of practice problems at www.cliffsnotes.com/go/quiz/chemistry
Cliffs Notes, 9780470905432, 192pp.
Publication Date: June 17, 2011
About the Author
Robyn L. Ford is a classroom teacher, having taught all levels of chemistry and physics. She teaches a dual enrollment course in AP Chemistry and adjuncts at a local university. She is working toward her Ph.D. in Chemistry Education.
Charles Henrickson, Ph.D., is a retired professor of Chemistry at Western Kentucky University.