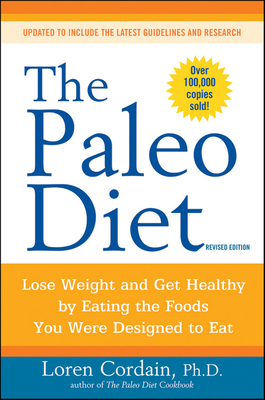 The Paleo Diet: Lose Weight and Get Healthy by Eating the Foods You Were Designed to Eat (Paperback)
Lose Weight and Get Healthy by Eating the Foods You Were Designed to Eat
Houghton Mifflin, 9780470913024, 266pp.
Publication Date: November 19, 2010
Description
Eat for better health and weight loss the Paleo way with this revised edition of the bestselling guide-over 100,000 copies sold to date
Healthy, delicious, and simple, the Paleo Diet is the diet we were designed to eat. If you want to lose weight-up to 75 pounds in six months-or if you want to attain optimal health, "The Paleo Diet" will work wonders. Dr. Loren Cordain demonstrates how, by eating your fill of satisfying and delicious lean meats and fish, fresh fruits, snacks, and non-starchy vegetables, you can lose weight and prevent and treat heart disease, cancer, osteoporosis, metabolic syndrome, and many other illnesses.Breakthrough nutrition program based on eating the foods we were genetically designed to eat-lean meats and fish and other foods that made up the diet of our Paleolithic ancestorsThis revised edition features new weight-loss material and recipes plus the latest information drawn from breaking Paleolithic researchSix weeks of Paleo meal plans to jumpstart a healthy and enjoyable new way of eating as well as dozens of recipesThis bestselling guide written by the world's leading expert on Paleolithic eating has been adopted as a bible of the CrossFit movement
"The Paleo Diet" is the only diet proven by nature to fight disease, provide maximum energy, and keep you naturally thin, strong, and active-while enjoying every satisfying and delicious bite.
About the Author
LOREN CORDAIN, Ph.D., is one of the top global researchers in the area of evolutionary medicine. Generally acknowledged as the world's leading expert on the Paleolithic diet, he is a professor in the Health and Exercise Science Department at Colorado State University. He lectures regularly around the world and has been featured on Dateline and in the New York Times, the Wall Street Journal, and other media. He is the author of The Paleo Diet Cookbook and The Paleo Diet for Athletes.
Advertisement