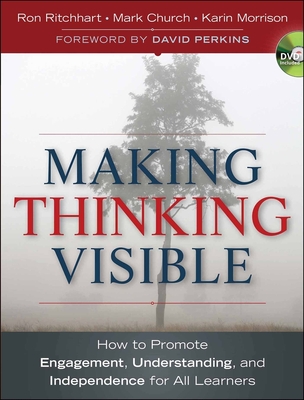 Making Thinking Visible (Jossey-Bass Teacher) (Paperback)
Jossey-Bass, 9780470915516, 320pp.
Publication Date: May 3, 2011
* Individual store prices may vary.
Description
A proven program for enhancing students' thinking andcomprehension abilities
Visible Thinking is a research-based approach to teachingthinking, begun at Harvard's Project Zero, that develops students'thinking dispositions, while at the same time deepening theirunderstanding of the topics they study. Rather than a set offixed lessons, Visible Thinking is a varied collection ofpractices, including thinking routines?small sets of questions or ashort sequence of steps?as well as the documentation of studentthinking. Using this process thinking becomes visible as thestudents' different viewpoints are expressed, documented, discussed and reflected upon.
Helps direct student thinking and structure classroomdiscussion
Can be applied with students at all grade levels and in allcontent areas
Includes easy-to-implement classroom strategies
The book also comes with a DVD of video clips featuring VisibleThinking in practice in different classrooms.
About the Author
Ron Ritchhart, Ed.D. is a senior researcher at Project Zero, Harvard Graduate School of Education. He is the author of Intellectual Character from Jossey-Bass.Mark Church is the Learning, Assessment, and Instructional Resource Supervisor for the Traverse City Area Public Schools in Michigan.Karin Morrison is director of The Development Centre at Independent Schools Victoria, Australia and instructor for the WIDE World online course, Making Thinking Visible, at Harvard.