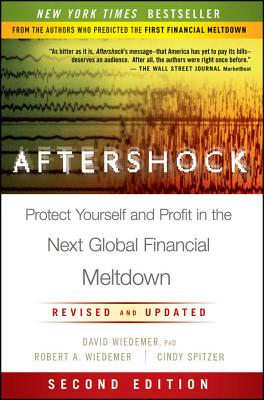 Aftershock (Hardcover)
Protect Yourself and Profit in the Next Global Financial Meltdown
John Wiley & Sons, 9780470918142, 304pp.
Publication Date: August 2, 2011
* Individual store prices may vary.
or
Not Currently Available for Direct Purchase
Description
A practical guide to preparing for the next phase of the financial meltdown
From the authors who were the first to predict Phase I of our current economic downturn-in their landmark 2006 book, America's Bubble Economy-comes their insightful sequel discussing their predictions for the next phase of the Bubble Economy.
It may seem like the worst has come and gone, but it hasn't. With their proven track record of accurate predictions-which most financial professionals and economists missed-the authors explain how and why the next phase of the financial meltdown is about to hit. Things are not going back to how they were before. Instead, we are moving through uncharted territory, with new challenges and opportunities that few people can anticipate. Written in a straightforward and accessible style, Aftershock shows readers how to seek safety and profits in these dynamic economic conditions.
Discusses how to protect assets, businesses, and jobs before and during the second wave of financial meltdown
Provides clear and accurate advice on how to profit from the collapsing bubbles
Offer focused guidance regarding real estate, which will continue to be a pressing concern for many
The authors' first book was chosen by Kiplinger's as one of the 30 Best Business Books of 2006, and its accuracy has been hailed by Paul Farrell of Dow Jones MarketWatch when he said "America's Bubble Economy's Predictions, though ignored, were accurate." Don't miss out on these time tested author's proven advice for how to mange your money during the coming financial meltdown.
About the Author
David Wiedemer, PhD, is a world leader in macro-evolutionary economic analysis. His work in information dynamics, technological evolution, and economic history form the basis for the predictions in Aftershock. Dr. Wiedemer is the Chief Economist for Absolute Investment Management. He holds a doctorate in economics from the University of Wisconsin-Madison. Robert A. Wiedemer is a Managing Director of Absolute Investment Management, a macro-focused money management firm that is in alignment with the macroeconomic analysis and perspective of Aftershock. Mr. Wiedemer holds an MBA from the University of Wisconsin-Madison. Cindy Spitzer is an award-winning author who has collaborated on more than twenty books since 1993 including Chicken Soup for the Soul, Buy and Hold Is Dead (Again), America's Bubble Economy, and many others. She is President of Aftershock Consultants, a consulting firm that provides support and insights to individuals, families, and businesses, based on the ideas in Aftershock.
Advertisement