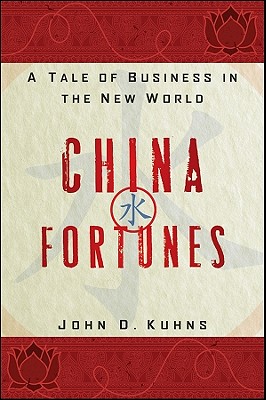 China Fortunes
A Tale of Business in the New World
Hardcover

* Individual store prices may vary.
Description
A thoroughly modern global business story
In the spirit of James Clavell, China Fortunes is a vast and sweeping story that addresses one of the hottest topics of the day, Chinese business.
From a chaotic start in China to an embezzling Chinese company president on the run in Manilla, this book follows the monetary ups and downs of Jack Davis, an American financier drawn to the great Asian nation by the wealth of opportunities that accompanied the opening of the country to outsiders.
Traces the beginnings of China's entry into the industrial age, as it hesitantly embraced capitalism while enthusiastically chased foreign dollars
Takes readers through the bond trading floors of Wall Street to the opaque world of investment boutiques, market crashes and business failures, IPOs, failing marriages, and multi-national hydro electric deals
Written by a leading China businessman with deep connections in China and beyond
Drawing on the experiences of one of the first western investment bankers to do business in China, this exciting tale brings you up close to the rising fortunes and risky business of the Middle Kingdom.
Wiley, 9780470928042, 580pp.
Publication Date: January 4, 2011
About the Author
JOHN D. KUHNS is a financier and industrialist who has been doing business in China for over twenty-five years. In 1984, as the founder and CEO of Catalyst Energy Corporation, Mr. Kuhns was the first American to acquire commercial hydroelectric generating equipment from China, powering much of the profitability behind the company's successful IPO and listing on the New York Stock Exchange. Having closed IPOs for five companies including some of the world's leading alternative energy businesses, Mr. Kuhns's most recent transaction was the January 2010 IPO for China Hydroelectric Corporation, China's largest owner of small hydroelectric projects, where he currently serves as Chairman and CEO. Kuhns Brothers, Mr. Kuhns's investment bank, raises financing for Chinese companies, and his private equity organization, the China Hand Fund, makes investments in Chinese companies. Mr. Kuhns graduated from Georgetown University, received a master of fine arts from the University of Chicago, and an MBA degree from the Harvard Business School. He lives with his family in Connecticut, where he fly fishes religiously.
or
Not Currently Available for Direct Purchase